US Government Plans to Use USDC Stablecoin to Offer Foreign Aid in Venezuela
U.S government has tapped Circle's USDC stablecoin to offer foreign aid in Venezuela through President-elect Juan Guaidó exiled government….
Venezuela's opposition leader, who exiled in Spain, has partnered with US-based cryptocurrency companies AirTM and Circle to facilitate the distribution of funds to healthcare workers in the country on the northern coast of South America.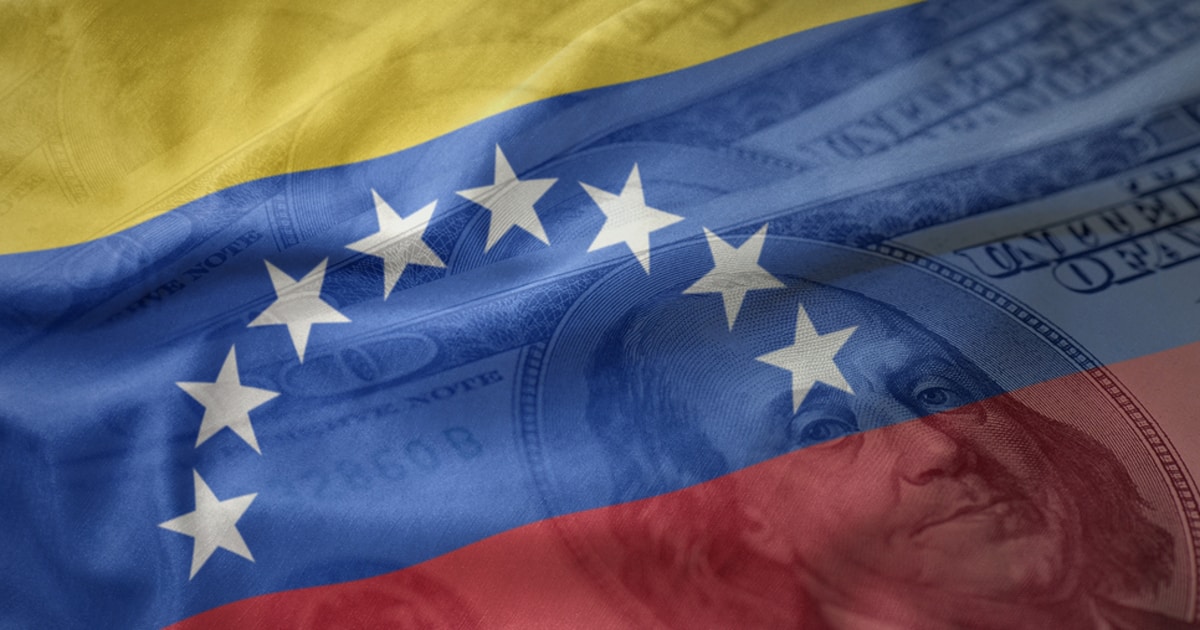 Circle CEO, Jeremy Allaire, stated that the partnership involved "a collaboration with the Bolivarian Republic of Venezuela, led by President-elect Juan Guaidó, US.-based fintech innovator AirTM, and coordination and licensing with the US government."
Venezuela went into elections in which Juan Guaidó was declared the president-elect of the country in January 2019. He, however, has failed to dislodge President Nicolas Maduro, who was accused of rigging the election to hold on to power.
Since then, several countries, including the United States, gave Guaidó official recognition as Venezuela's president. Trump administration has offered forms of assistance to the Guaidó-led government-in-exile. However, US government efforts have not been successful in removing President Nicolas Maduro from office.
President-elect Juan Guaidó has led the business partnership with Circle payment technology company and US cryptocurrency exchange AirTM to distribute relief funds to health workers and other locals in Venezuela. The US government has offered licensing and coordination.
The outbreak of the COVID-19 pandemic accelerated Venezuela's difficulties. Hyperinflation in the country has had an adverse impact on medical workers, patients, and locals who, in several cases, have found their funds becoming worthless.
Circle's USDC cryptocurrency has the potential to address such a situation as it is a stablecoin whose value is pegged to the US dollar and therefore does not suffer from price changes as the Venezuelan bolivar local currency. Furthermore, the USDC is a virtual currency, which makes it is easy to distribute the funds to people who are in urgent need.
The US Federal Reserve and Treasury Department would release funds to the Guaidó government, which would then utilize the funds to mint USDC. Then the USDC would be sent to AirTM crypto exchange where they would be distributed to the wallets of Venezuelan medical workers and locals who can withdraw the funds as bolivars at the free market rate.
AirTM has its own virtual debit card (mobile app); therefore, medical workers and locals would not need to interact with a Venezuelan bank. At the current moment, AirTM exchange has about 500,000 customers in Venezuela, and the number keeps rising.
Complicated Relationship Between Venezuela and the US
Since 2016, Venezuela has suffered from hyperinflation partly caused by the country's controversial President Nicolas Maduro leaning on money printing. Forms of aids and assistance are needed to address the country's ongoing economic crisis. But the relations between Venezuela and the US have been strained since Hugo Chavez became Venezuela's president in 1999 and even got worse when the Trump administration recognized Juan Guaidó, opposition leader, as the country's president instead of Chavez's successor Nicolas Madura in January 2019.
The US has been dedicating efforts to send aids to alleviate the sufferings that Venezuelans experience. However, Maduro's administration has been accused of being a stumbling block to allow humanitarian aids to enter the country. Early September this year, Maduro's administration denied Venezuelans access to the US cryptocurrency exchange Coinbase and MercaDolar fiat remittance platform to distribute $18 million in aid. However, the current collaboration has made a landmark history in which USD stablecoin cryptocurrency is set to be used to offer foreign aids.
Source: https://blockchain.news/news/us-government-usdc-stablecoin-offer-foreign-aid-venezuela
Square, Paradigm, Fidelity, and Coinbase Establish Crypto Council to Lobby Regulators
The new cryptocurrency council aims to serve as the growing industry's voice to advocate for the economic and social benefits of crypto assets and related technologies.
Crypto venture capital firm Paradigm, Square, Fidelity Investments, and Coinbase crypto exchange have established a new cryptocurrency council to lobby policymakers to support the rapidly growing crypto industry.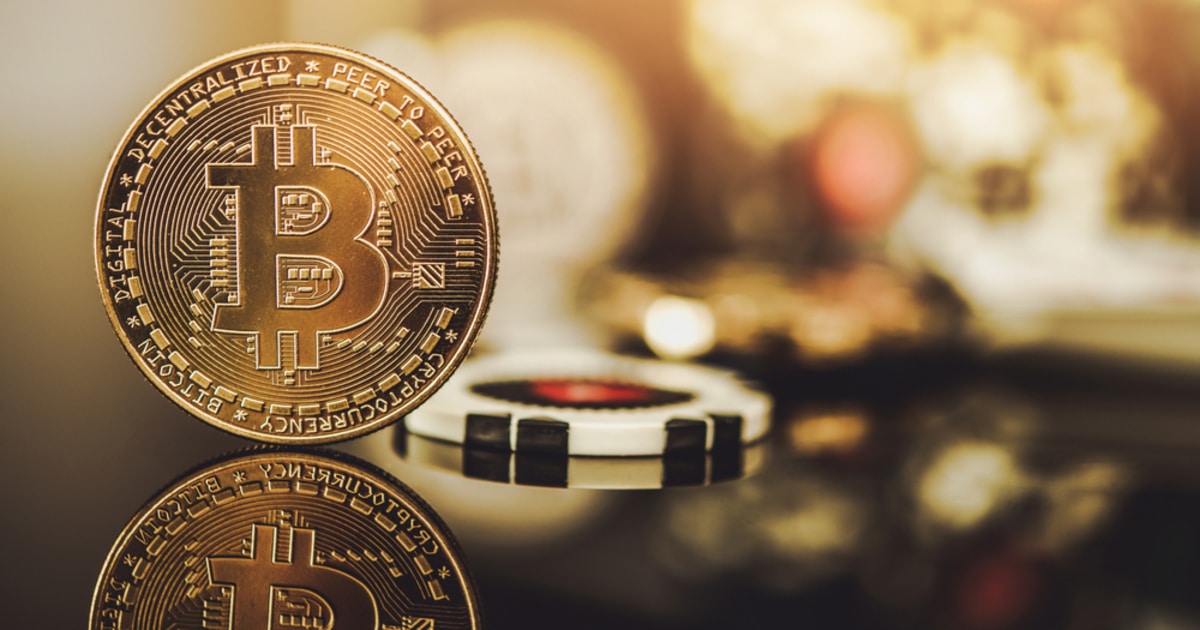 The aim of the newly formed trade group "The Crypto Council for Innovation" is to ensure that policymakers understand the significance of the crypto innovation and develop favourable regulations that would enable the industry to thrive.
"The Crypto Council for Innovation" aims to shape the manner in which crypto assets are regulated and it seeks to demonstrate the "transformational promise of crypto and communicate its benefits to policymakers, regulators, and people around the globe."
Fred Ehrsam, the co-founder of Paradigm investment firm told The Wall Street Journal that "cryptocurrency is at mainstream inflection point."
He further added:
"It's in its very early stages and, much like the internet (once was), it's very fragile while it's in that stage. It's challenging because policy makers want to balance risk and reward, and even people who spend time in this space would struggle to predict where this will go in the coming decade. It was very hard to say where the internet was going to go."
The council is planning to assemble a board of representatives from each of the four initial members. The council will also create an executive team.
Cryptocurrencies Helping Global Economy
The formation of the crypto council comes at a time when prices of several cryptocurrencies have risen, attracting interest from mainstream investors as well as brokers and banks which serve them. At the beginning of this year, the total market capitalization of Bitcoin climbed to $1 trillion for the first time.
Cryptocurrency is a new industry as many people are still not sold on the market's future. Crypto evangelists claim that crypto assets and blockchain technology have the capacity for job creation and extension of financial services to consumers living anywhere across the globe at little to no cost.
Cryptocurrencies have the potential to enable economic and social growth throughout the world, including in developing nations, by providing easier access to capital and financial services. Therefore, regulators and policymakers across the globe will play a prominent role in shaping the future of crypto assets.
Image source: Shutterstock
Fred Ehrsam, the co-founder of Paradigm investment firm told The Wall Street Journal that "cryptocurrency is at mainstream inflection point."
Source: https://blockchain.news/news/squareparadigm-fidelity-coinbase-establish-crypto-council-lobby-regulators
Top 5 Evolving Cryptocurrency Startups That Are Revolutionizing The Future of Fintech
Tremendous evolution in cryptocurrency startups provides to be revolutionary in the Fintech industry now and in upcoming years.
Perhaps, a massive amount of capital is flowing from legacy institutions to Bitcoin and other digital assets.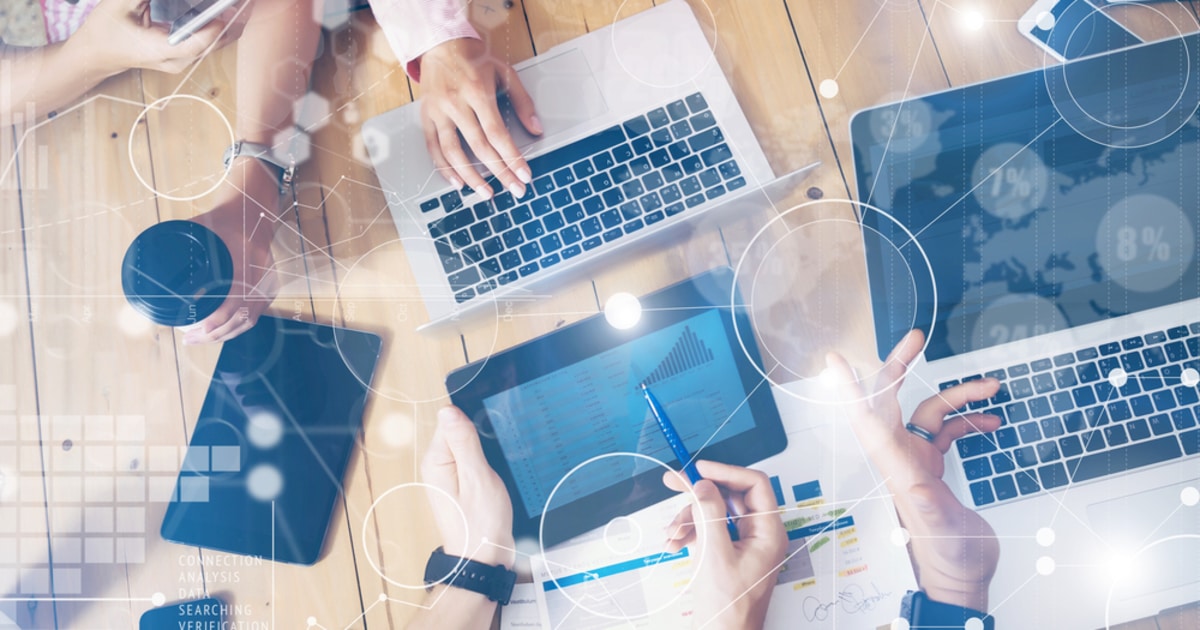 Bitcoin is evolving and blockchain is maturing due to technological advancements. Digital currencies have risen considerably during the pandemic year. Bitcoin has been in the headlines throughout the year, resulting in the price emergence of other coins and cryptocurrencies.
Considering recent evolution in cryptocurrency industries and Bitcoin's price expansion, Elon Musk, founder of SpaceX, announced recently that his company Tesla invested $1.5 billion in Bitcoin. Additionally, Tesla has begun considering BTC payments for their electric vehicles. The company updated its investment policy recently in January 2021 to provide liability and flexibility, and to maximize returns on cash which is not required to maintain sufficient operating liquidity.
Keeping in view the above-mentioned updates, analysts and researchers concluded that investors can be easily wiped out if digital currency prices evolve in the future. Many companies and evolving organizations are currently working on acquiring blockchain and cryptocurrency transformations.
Let's have a look at the top 5 most evolving cryptocurrency startups that prove to be revolutionizing the future of the Fintech industry.
1. Wintermute
Wintermute was founded by Harro Mantel, Evgeny Gaevoy, and Yoann Turpin in 2017. The main goal of this startup is to provide more liquidity which is required for the cryptocurrency market. Moreover, they are keener to adopt innovative decentralized finance for transaction purposes. The startup is currently funding $20M. Thankfully, Wintermute offers sophisticated trading algorithms and technology and provides liquidity to thousands of pairs across trading platforms and most vetted exchanges internationally. The best part is the company is dedicated to helping digital asset exchanges and blockchain for an unpredictable future of the fintech Industry.
2. Nebeus
Nebeus was founded by Konstantin Zaripov, Sergey Romanovskiy. This evolving London-based company is providing a strong bridge by fulfilling the gap between cash and cryptocurrency. It is providing crypto-backed cash services to people for everyday use. Surprisingly Nebeus raised €995K through an equity crowdfunding campaign on Seedrs. People can buy, sell and exchange cryptocurrency efficiently and accurately. The main product is crypto asset-collateralized loans, with health monitoring, fluctuation alerts, integrated and proprietary margin calls.
3. Coinrule
Coinrule was founded by Gabriele Musella, Oleg Giberstein, and Zdenek Hofler. Coinrule is currently funding £941K and is the smart assistant for cryptocurrency exchange and trading while being capable of fighting back automated bots and high funds. The company affirms that it is uncomplicated and requires no coding skills. CoinRule is a beginner-friendly yet safe and secure platform used to send automated instructions to the customer's chosen exchange. The company does not require any private keys and withdrawal rights from its customers.
4. Radix DLT
Radix DLT was founded by Dan Hughes and is currently funding £16.2M. It is a London-based decentralized finance (DeFi) network, emerging to develop DeFi protocols, providing frictionless access, liquidity and programmability to any digital asset around the globe. The main goal of this company is to provide solutions to complex queries in the current era of a centralized financial system. Radix focuses on three drivers of DeFi growth i.e. access, liquidity, and choice.
5. Wirex
Wirex was founded by Dmitry Lazarichev, Georgy Sokolov, Pavel Matveev and is currently funding £5.7M. The main goal of Wirex is to make cryptocurrency and other traditional currencies equally accessible to everyone. The company has its own personal application and the Nex-gen Wirex card allows its customers to buy, sell, exchange, and spend a wide range of digital and conventional currencies with a high rate of effectiveness and security, with no hidden fees.
Hence, the cryptocurrency sector has undoubtedly gained immense popularity in the past couple of years, and has started to affect the economy of numerous countries. Whenever technological advancements come under discussion, expansion in blockchain and acquisition of cryptocurrency is now almost always part of the conversation. In the near future, cryptocurrencies have the potential to grow and reshape the landscape of fintech startups.
Companies like Facebook and other tech giants are focusing on adopting cryptocurrency and integrating it into their network as it is the next big revolution in the fintech industry.
Image source: Shutterstock
Source: https://blockchain.news/wiki/top-5-evolving-cryptocurrency-startups-are-revolutionizing-future-fintech
What are NFTs?
A non-fungible token (NFT) is a special type of encrypted token that represents unique things such as encrypted art, digital collectibles, and online games.
A non-fungible token (NFT) is a special type of encrypted token that represents unique collectibles. An NFT is used in specific applications that require unique digital items, such as encrypted art, digital collectibles, and online games.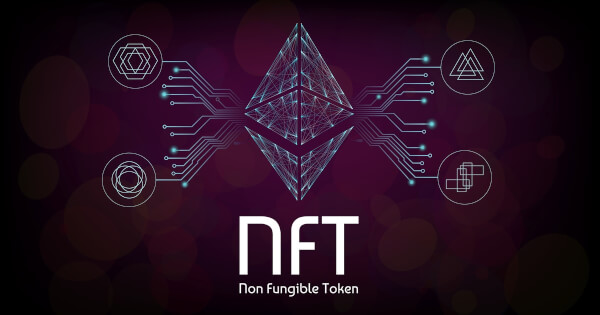 This is in contrast to cryptocurrencies like Bitcoin, and many networks or utility tokens that are fungible. Fungible tokens can be exchanged with each other because they hold the same value similar to a simple exchange between banknotes of the same denomination.
Features
Irreplaceability
NFTs cannot be copied or divided between different holders. Just like a unique piece of art, NFTs are valued because of their cultural significance and social capital value and holding famous works. NFTs are also very popular among artists because a portion of any resale price will be directly returned to the original author.
Tokenization of physical assets
In the blockchain world, NFT means that each token has its own value and distribution characteristics. Another difference with homogenized tokens is that non-financial transactions are indivisible. The most common token standard for NFT is ERC-721.
Through Ethereum's ERC-721 standard, it is possible to prove that a digital file is a unique "original file" to solve the problem of digital file copying, and to confirm its authenticity and uniqueness. Non-fungible tokens immutably prove digital ownership.
Access to the actual asset
When you purchase an NFT, you not only obtain an immutable ownership record of the asset but also gain access to the actual asset.
According to industry data company NonFungible, as of March 30, there have been 5,498,710 transactions in the NFT market, with a total transaction volume of $557,623,962.02

Non-fungible tokens & DeFi
Non-fungible tokens not only operate on the Ethereum blockchain, but they can also run on other decentralized networks, such as EOS and NEO. These decentralized networks all have the function of smart contracts with a box full of NFT tools, so developers can describe metadata in detail.
NFT has increasingly begun to be integrated into the decentralized finance (DeFi) sector.
For example, the DeFi protocol Yearn Finance has developed an insurance product Y.Insure for virtual currency assets.
Y.Insure uses the NFT mechanism (ERC-721) to represent the unique attributes of insurance policies.
Other DeFi projects with NFT bearings include MEME, Bancor, and Enjin.
Trading places
Non-fungible tokens can be traded on OpenSea, Nifty Gateway, Nifty Gateway, MakersPlace, Rarible, SuperRare, and other platforms.
History
Around 2017, the two earliest NFTs to be created and to gain popularity were CryptoPunks and CryptoKitty. CryptoPunks contains 10,000 cute animations of human bodies and animal characters. CryptoKitty is a set of images of fantasy cats, which were originally given away for free. However, the most valuable CryptoKitty is now worth more than $100,000, and CryptoPunks is worth more than $1 million.
Another major player driving the NFT boom is "NBA Top Shot", a video-based virtual basketball trading card website launched in October last year.
NBA TopShot provides NBA-authorized basketball-themed collections and is the defending champion in the NFT market so far.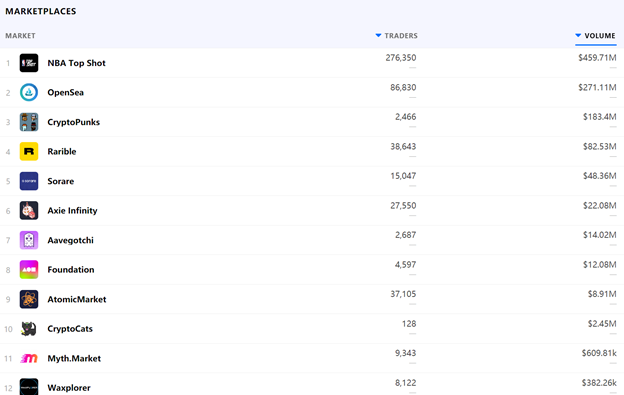 Source: NBA TopShot via NonFungible
NBA Top Shot accounted for the largest NFT product with a total transaction volume of $459.71M. So far, over 276,350 transactions has been processed on the network.
Image source: Shutterstock
Source: https://blockchain.news/wiki/what-are-nfts