Top 5 Evolving Cryptocurrency Startups That Are Revolutionizing The Future of Fintech
Tremendous evolution in cryptocurrency startups provides to be revolutionary in the Fintech industry now and in upcoming years.
Perhaps, a massive amount of capital is flowing from legacy institutions to Bitcoin and other digital assets.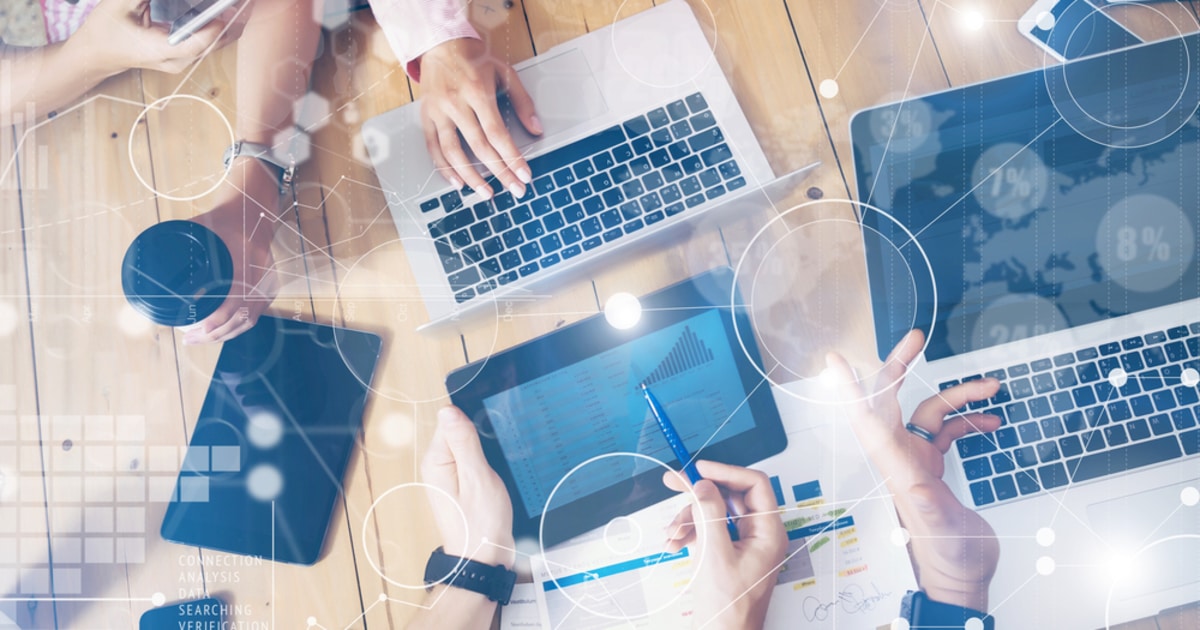 Bitcoin is evolving and blockchain is maturing due to technological advancements. Digital currencies have risen considerably during the pandemic year. Bitcoin has been in the headlines throughout the year, resulting in the price emergence of other coins and cryptocurrencies.
Considering recent evolution in cryptocurrency industries and Bitcoin's price expansion, Elon Musk, founder of SpaceX, announced recently that his company Tesla invested $1.5 billion in Bitcoin. Additionally, Tesla has begun considering BTC payments for their electric vehicles. The company updated its investment policy recently in January 2021 to provide liability and flexibility, and to maximize returns on cash which is not required to maintain sufficient operating liquidity.
Keeping in view the above-mentioned updates, analysts and researchers concluded that investors can be easily wiped out if digital currency prices evolve in the future. Many companies and evolving organizations are currently working on acquiring blockchain and cryptocurrency transformations.
Let's have a look at the top 5 most evolving cryptocurrency startups that prove to be revolutionizing the future of the Fintech industry.
1. Wintermute
Wintermute was founded by Harro Mantel, Evgeny Gaevoy, and Yoann Turpin in 2017. The main goal of this startup is to provide more liquidity which is required for the cryptocurrency market. Moreover, they are keener to adopt innovative decentralized finance for transaction purposes. The startup is currently funding $20M. Thankfully, Wintermute offers sophisticated trading algorithms and technology and provides liquidity to thousands of pairs across trading platforms and most vetted exchanges internationally. The best part is the company is dedicated to helping digital asset exchanges and blockchain for an unpredictable future of the fintech Industry.
2. Nebeus
Nebeus was founded by Konstantin Zaripov, Sergey Romanovskiy. This evolving London-based company is providing a strong bridge by fulfilling the gap between cash and cryptocurrency. It is providing crypto-backed cash services to people for everyday use. Surprisingly Nebeus raised €995K through an equity crowdfunding campaign on Seedrs. People can buy, sell and exchange cryptocurrency efficiently and accurately. The main product is crypto asset-collateralized loans, with health monitoring, fluctuation alerts, integrated and proprietary margin calls.
3. Coinrule
Coinrule was founded by Gabriele Musella, Oleg Giberstein, and Zdenek Hofler. Coinrule is currently funding £941K and is the smart assistant for cryptocurrency exchange and trading while being capable of fighting back automated bots and high funds. The company affirms that it is uncomplicated and requires no coding skills. CoinRule is a beginner-friendly yet safe and secure platform used to send automated instructions to the customer's chosen exchange. The company does not require any private keys and withdrawal rights from its customers.
4. Radix DLT
Radix DLT was founded by Dan Hughes and is currently funding £16.2M. It is a London-based decentralized finance (DeFi) network, emerging to develop DeFi protocols, providing frictionless access, liquidity and programmability to any digital asset around the globe. The main goal of this company is to provide solutions to complex queries in the current era of a centralized financial system. Radix focuses on three drivers of DeFi growth i.e. access, liquidity, and choice.
5. Wirex
Wirex was founded by Dmitry Lazarichev, Georgy Sokolov, Pavel Matveev and is currently funding £5.7M. The main goal of Wirex is to make cryptocurrency and other traditional currencies equally accessible to everyone. The company has its own personal application and the Nex-gen Wirex card allows its customers to buy, sell, exchange, and spend a wide range of digital and conventional currencies with a high rate of effectiveness and security, with no hidden fees.
Hence, the cryptocurrency sector has undoubtedly gained immense popularity in the past couple of years, and has started to affect the economy of numerous countries. Whenever technological advancements come under discussion, expansion in blockchain and acquisition of cryptocurrency is now almost always part of the conversation. In the near future, cryptocurrencies have the potential to grow and reshape the landscape of fintech startups.
Companies like Facebook and other tech giants are focusing on adopting cryptocurrency and integrating it into their network as it is the next big revolution in the fintech industry.
Image source: Shutterstock
Source: https://blockchain.news/wiki/top-5-evolving-cryptocurrency-startups-are-revolutionizing-future-fintech
Ethereum Gas Fees Surge to a Monthly High, Supply on Exchanges Continues to Decline
Ethereum's total fees has hit a monthly high of 746.026 ETH.
After hitting highs of $4,350 recently, Ethereum (ETH) retraced to $3,871 at the time of writing, according to CoinMarketCap.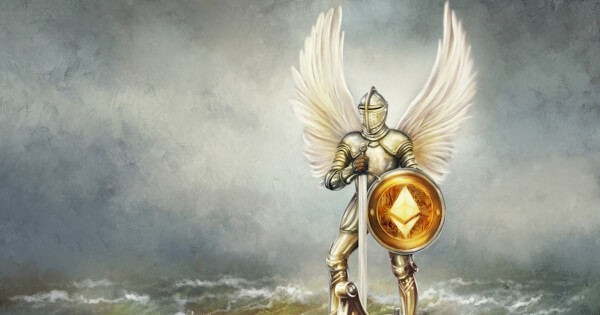 The crypto market experienced shock waves after Tesla, the American electric car manufacturer, decided not to accept BTC payments, citing concerns of negative environmental impact.
The Ethereum network has enjoyed notable milestones ever since the second-largest cryptocurrency breached the previous record of $1,400 set in 2018.
For instance, the total fees paid hit a monthly high of 746.026 ETH, as acknowledged by on-chain metrics provider Glassnode. Moreover, ETH's dominance reached a record high of 19.13%.
Ethereum's supply on exchanges continue to be depleted
According to market analyst Joseph Young:
"The supply on exchanges continues to nosedive. Feels very different from the last bull cycle."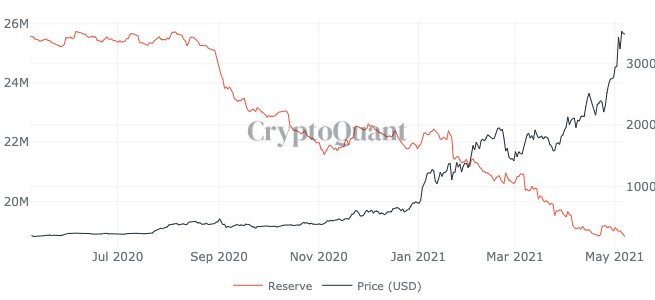 Glassnode had previously reported that ETH on exchanges dropped to 12% of circulating supply, as Ether in smart contracts rose to 22.8%.
CryptoQuant CEO Ki Young Ju attributes this trend to Ethereum's usability and ecosystem, which has made ETH holdings decrease both in derivative and spot exchanges. As a result, the sell-side liquidity crunch has been intensified.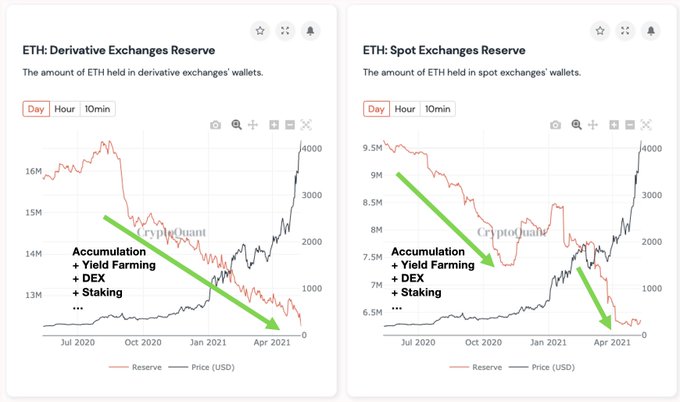 Crypto addresses with at least 10,000 ETH hit ATH
Lex Moskvoski, the CIO at Moskvoski Capital, noted that crypto addresses with more than 10,000 ETH broke the record in the last 30 days. He explained:
"Number of Ethereum addresses with more than 10k ETH are repeatedly hitting ATH in the last 30 days. Looks like the beginning of massive accumulation. Smart contracts are excluded in this chart."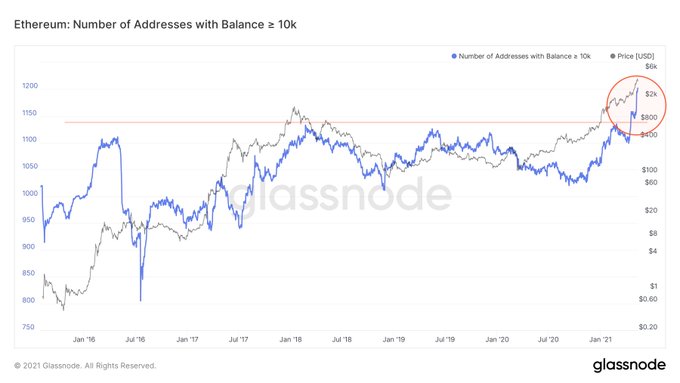 Furthermore, decentralized finance (DeFi) projects on the Ethereum network has expanded at an incredible rate, absorbing more than $100 billion in liquidity in less than a year. Ethereum smart contracts are one of the most sought after features in DeFi.
Time will tell whether ETH will hit the psychological price of $5,000 this year, given that Ether has enjoyed a remarkable bull run in just the first quarter of 2021. Many are inclined to think that Ether will eventually reach $5,000 in value. Dallas Mavericks owner Mark Cuban seems to think that Ethereum will dwarf Bitcoin in the future, given the reliance of other blockchain projects on its network.
Image source: Shutterstock
Source: https://blockchain.news/news/ethereum-gas-fees-surge-monthly-highsupply-exchanges-continues-decline
Bitcoin Struggles to Maintain Its Dominance
Bitcoin's dominance has fallen to 44%, which is the lowest level BTC has gotten since 2018.
Bitcoin's consolidation continues. Ever since the top cryptocurrency hit highs above $64,500, it has not been able to breach the $60K price level. Last month, Bitcoin even plummeted to lows of $48.5K.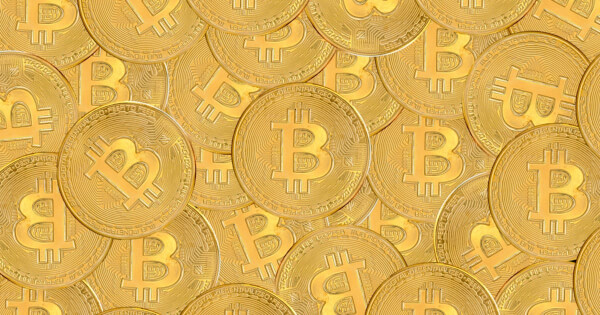 This downtrend was triggered by speculations that the American administration would increase capital gain taxes, which would affect crypto investments. Bitcoin is trading at $55,179 at the time of writing, according to CoinMarketCap.
The lack of an upward momentum has been partly triggered by Bitcoin's dominance falling to 44%, which is the lowest level BTC has gotten since 2018, as alluded to by market analyst Holger Zschaepitz. He explained:
"Crypto market value hits $2.5tn as Ether hits record high >$4k. Bitcoin's price is currently ~$59k w/its dominance reaching 44%, lowest since 2018, while Ethereum's dominance is at a record 18%."
Despite Bitcoin's dominance falling, Square Inc. recently announced a BTC revenue of $3.51 billion during the first quarter of 2021, which is an increase of more than 11 times over the same period last year.
Institutions bought the recent Bitcoin dip
According to Glassnode co-founders Yann & Jan, panic selling by retail investors caused Bitcoin to plummet. They said:
"While retail investors panic sold, institutions bought this recent Bitcoin dip."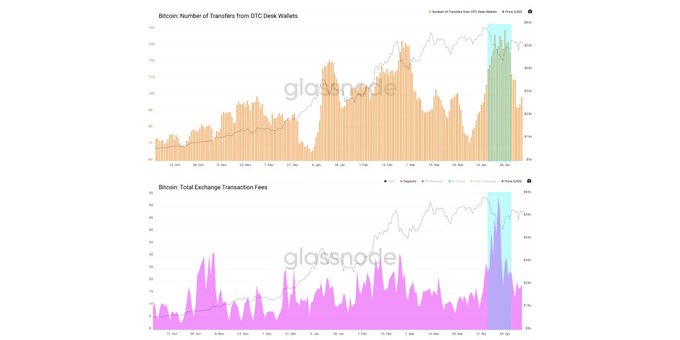 They had previously said that new market entrants caused the recent BTC panic selling, which saw the cryptocurrency's price nosedive to the $48K level.
Bitcoin whales are, therefore, in an accumulation mood, as noted by Santiment. The on-chain metrics provider explained:
"Of the 16,104 Bitcoin addresses holding between 100 to 10,000 BTC currently, they own 9.1M BTC ($531.3B in USD). After declining holdings from April 10 to May 4, this group is showing signs of accumulating again with 20k added BTC the past 2 days."
On the other hand, Bitcoin's selling pressure from miners has fallen, as stated by a crypto trader tweeting under the pseudonym "Crypto Baby."
"BTC selling pressure from miners is dead. They sent a large amount of BTC to exchanges in Feb this year, but they are moving a relatively small amount of Bitcoins these days. The sellers today seem not long-term investors and miners, but short-term profit takers."
Although Bitcoin is eyeing the $60K price level and has been struggling to retest it, 2021 has still proven to be a record-breaking year for BTC.
Image source: Shutterstock
"Crypto market value hits $2.5tn as Ether hits record high >$4k. Bitcoin's price is currently ~$59k w/its dominance reaching 44%, lowest since 2018, while Ethereum's dominance is at a record 18%."
Source: https://blockchain.news/news/bitcoin-struggles-maintain-its-dominance
Kazakhstan Launches Public Consultation for Its Proposed CBDC
Kazakhstan is advancing its digital tenge project with a use case design and stakeholder consultation.
The National Bank of the Republic of Kazakhstan (NBRK) is set to launch a public consultation for its proposed digital tenge currency, the nation's official Central Bank Digital Currency (CBDC).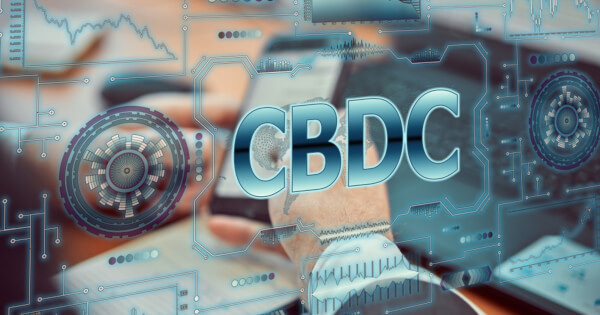 As detailed by the NBRK, the development of the digital tenge will take a two-tier structure in which the apex bank will provide the infrastructure backing the CBDC rollout while the financial market participants will provide payment services.
The development of the digital tenge according to the NBRK will seek to serve as a complement to the fiat currency, and not as a replacement.
"National digital currency is a promising form of funds that are the obligation of the National Bank of the Republic of Kazakhstan and presented in digital form. The digital tenge will be a legal tender, a measure of value, and a store of value," the bank said in its public announcement.
To make for a successful digital tenge, the NBRK has highlighted the need to consult relevant stakeholders by working together with financial market participants, the expert community, and international partners. The pilot test will be kickstarted with the study of the risks and benefits associated with the issuance of a digital tenge in the nation.
"To make a decision on the issue of the Digital Tenge, it is necessary to conduct a comprehensive study of the benefits and risks with the definition of the tasks solved by the digital currency, the method of its emission and distribution, the technology used, the impact on monetary policy, financial stability and the payment ecosystem," the NBRK noted.
Kazakhstan has been a very bullish nation when it comes to digital currency innovations, adequately nurturing plans to attract as much as $738 million in crypto-based investments over the course of three years. The country also has a dedicated crypto mining engagement, for which it plans to invest $700 million.
The digital tenge project is a development that models similar efforts by other advanced economies including the United States, Britain, and China, to name a few. Kazakhstan has no set deadline on CBDC issuance.
Image source: Shutterstock
Source: https://blockchain.news/news/kazakhstan-launches-public-consultation-its-proposed-cbdc