HP jumps on earnings beat and rising PC notebook sales
The company beat estimates and notebook PC sales grew even as total revenue declined….
Enrique Lores, CEO, HP
Scott Mlyn | CNBC
HP shares rose as much as 9% in extended trading on Tuesday after the PC maker reported fiscal fourth-quarter earnings that beat analysts' estimates and provided an optimistic earnings forecast.
Earnings: 62 cents per share, adjusted, vs. 52 cents per share as expected by analysts, according to Refinitiv.
Revenue: $15.3 billion vs. $14.7 billion as expected by analysts, according to Refinitiv.
Revenue declined for the fourth consecutive quarter on an annualized basis. It fell about 1% in the quarter, which ended Oct. 31, according to a statement.
HP is forecasting 64 cents to 70 cents in adjusted earnings per share in the fiscal first quarter, higher than the Refinitiv consensus of 54 cents.
The company's largest business segment, Personal Systems, which includes PC notebooks and desktops, delivered $10.4 billion in revenue, flat year over year and below the $10.5 billion consensus among analysts polled by FactSet. Within that unit, sales of notebooks rose 18% to $7.41 billion as people sought out computers to help them work and learn from home because of the coronavirus pandemic. The overall segment was pulled down by desktop and workstation declines.
HP more than doubled unit sales of and revenue from Chromebook PCs running Google's Chrome OS operating system, said Marie Myers, HP's chief transformation officer and acting chief financial officer, on a conference call with analysts. She succeeded Steve Fieler, who left in the quarter to join Google.
Also on Tuesday, PC maker Dell reported fiscal third-quarter results and said sales of consumer devices, including PCs, were up 14% from a year earlier in the quarter that ended Oct. 30.
HP continues to deal with component shortages, and the company expects that trend to limit growth in the first half of the 2021 fiscal year, with people continuing to stay home, CEO Enrique Lores said on the call. Constrained supplies of chips and display panels could hurt HP's ability to meet notebook demand in particular, Myers said. She said people will continue to seek out less expensive products.
Excluding the after-hours jump, HP shares are up 6% since the start of the year, while the S&P 500 has gained about 13% over the same period.
WATCH: Cramer breaks down the runs in housing, work-from-home and cloud stocks
Revenue declined for the fourth consecutive quarter on an annualized basis. It fell about 1% in the quarter, which ended Oct. 31, according to a statement.
Source: https://www.cnbc.com/2020/11/24/hp-hpq-earnings-q4-2020.html
Explaining the volatile stock and bond market moves this week following the Fed's update
The Fed unleashed a huge repositioning in markets, as investor reacted to a world where the central bank no longer guarantees its policies will remain easy.
The Federal Reserve unleashed a huge repositioning in global financial markets, as investors reacted to a world where the U.S. central bank is no longer guaranteeing its policies will be dovish — or easy.
The dollar surged the most in a year over a two-day period against a basket of currencies.
Stocks were mixed around the world on Thursday, as were bond markets. Many commodities sold off. The Nasdaq Composite was higher, while the S&P 500 and Dow Jones Industrial Average slid. Tech gained, and cyclical stocks fell.
The central bank delivered a strong message Wednesday when Fed Chairman Jerome Powell said officials have discussed tapering bond buying and would at some point decide to begin the process of slowing the purchases. At the same time, Fed officials added two rate hikes to their 2023 forecast, where there were none before.
"It's the end of peak dovishness," Bleakley Global Advisors chief investment officer Peter Boockvar said. "It's not going hawkish. It's just we're past peak dovishness. This market response is as if they were already tapering."
Not an immediate shock, but volatility ahead
Strategists say the Fed's slight step toward tightening policy didn't shock markets Wednesday, but it will likely make them volatile going forward. The Fed, in essence, is acknowledging the door is now open to future rate hikes.
It is expected to make a fuller declaration about the bond program later this year, and then within several months start the slow process of bringing $120 billion a month in purchases down to zero.
The yields of shorter-duration Treasurys, like the 2-year note, rose. Longer duration yields, such as the benchmark 10-year, fell. That so-called "flattening" is a go-to trade when interest rates rise. The logic is that longer yields fall since the economy may not do as well in the future with higher interest rates, and short-end yields rise to reflect expectations of the Fed raising rates.
U.S. longer-dated Treasurys, like the 10-year, have been lower than many strategists had expected lately. That's in part because they are highly attractive to foreign buyers due to negative rates in other parts of the world and liquidity in the U.S. markets. The 10-year yield shot to 1.59% after the Fed news, but was back down at 1.5% Thursday afternoon. Yields move opposite price.
Commodities-related stocks, like energy names and materials shares, were down sharply Thursday afternoon. Energy was the worst-performing S&P 500 sector, falling 3.5%. Materials lost 2.2%.
"It's a massive flattening of the yield curve. It's an interest rate trade, and it's the belief the Fed is going to slow growth," Boockvar said. "So sell commodities, sell cyclicals… and in a slow growing economy people want to buy growth. It's all happening in two days. It's just a lot of rewinds."
Boockvar said the curve flattening has been happening swiftly, too. For instance, the spread between the 5-year yield and 30-year bond yield quickly compressed, moving from 140 basis points to 118 basis points within two days.
"You're watching an incredible unwind of positioning in the bond market. I don't think people thought the Fed would do it," BlackRock CIO of global fixed income Rick Rieder said.
"We thought the flattening trade was the right move when we saw some of the news out of the Fed. That was something we jumped on pretty quickly. I have to say we're letting some Treasurys go into this rally," Rieder told CNBC.
For stock investors, the shift in cyclical stocks goes against a trade that has been popular as the economy reopened. Financial stocks fell on the flatter yield curve, but REITs were slightly higher. Technology stocks rose 1.2%, and health care gained 0.8%.
"The implication is higher stock market volatility, which I think we're going to have and going to continue to have," BTIG head of equity and derivatives strategy Julian Emanuel said. "Yesterday changed things. This whole idea of data dependency — the market is going to trade it like crazy, particularly given the fact that the public participation remains very elevated and the stocks the public is most interested in are high multiple growth stocks that have been leading the last several weeks as the bond market remained range bound."
Even as Powell acknowledged inflation was higher than the Fed expected, the central bank also pressed its message that inflationary pressures could be temporary. The Fed's boosted its forecast for core inflation to 3% for this year but was at just 2.1% for next year, in its latest projections. Powell used the example of the rise and fall of lumber prices to illustrate his view that inflation will not be long lasting.
But Emanuel said it will be difficult to tell whether inflation is fleeting , and the economy's emergence from the pandemic has been difficult to predict. "Whether it's the Fed or paid economists on the sell side, or paid economists on the buy side, the ability to measure what's going on in the economy is really nothing more than … educated guess work at this point because the statistics are just all over the place," Emanuel said, adding inflation readings have all been hotter than expected.
He expects the market will trade in a range for now, with the bottom at 4,050 on the S&P 500 and the top at 4,250. The S&P 500 closed at 4,221 on Thursday, down just 1 point. The Dow was of by 0.6% at 33,823, and the Nasdaq rose by 0.9% at 14,161.
The late-July Fed meeting now looms large. That could add even more volatility as investors wait to see if the Fed will provide more details on tapering after that meeting. Many economists expect the Fed to use its annual Jackson Hole symposium in late August as a forum to lay out its plan for the bond program.
The bond purchases, or quantitative easing, were launched last year as a way to provide liquidity to markets during the economic downturn that started last year. The Fed purchases $80 billion in Treasurys and $40 billion in mortgage securities each month. Rieder expects the Fed could slow purchases by $20 billion a month once it starts the tapering. Once the Fed gets to zero, it could then consider when to raise interest rates.
The market expectations for rate hikes have moved forward, and the euro-dollar futures market now sees four rate hikes by the end of 2023, according to Marc Chandler of Bannockburn Global Forex. Prior to the Fed's announcement Wednesday, futures showed expectations for about 2.5 rate hikes.
Strategist expect some of the Fed reaction is just temporary, and reflects investors who were too far offsides in some positions. "I'm still a commodities bull," Boockvar said. Commodities had already begun falling ahead of the Fed announcement, after China announced plans to release metals reserves.
"The Fed needed to reign in the inflation story. They did it only very very slightly, but at least they accomplished it, and they've squeezed out inflation expectations and they've seen a pullback," he said. "The question is can they through. To raise rates in two years or baby step tapering is not going to do it, but at least for two days they've succeeded in calming things down."
The dollar index jumped 0.8% on Thursday afternoon, about the same as Wednesday's move.
Chandler said the dollar move could also be a temporary adjustment and not part of a much bigger move. The dollar index's gain largely reflect the dollar's move against the euro, weaker as the European Central Bank continues to sound dovish.
"Norway signaled [Thursday] that they are going to hike rates in September and yet the dollar rallied against Norway. I think what happened yesterday set off a new wave of positioning in the currencies. … If it's not done it's nearly done," he said.
The biggest component of the dollar index basket is the euro. "The correction is long in the tooth. It began in late May. That's when the euro put in its last high," said Chandler.
Source: https://www.cnbc.com/2021/06/18/explaining-the-volatile-stock-and-bond-market-moves-this-week-following-the-feds-update.html
How to build business credit
Business credit is vital for businesses that need to borrow money to grow. Building business credit is not impossible; it just takes time and dedication.
The face of business continues to change. Even before the pandemic of 2020 hit, business market trends suggested that the growth of e-commerce would continue to be the big wave of the future. Businesses are learning to adapt to changes in the digital marketplace and stay ahead of changes by adopting the innovations of e-commerce.
As consumer spending continues to rise, businesses will have to invest to compete. This will require working capital and cash flow to purchase the software and technologies needed to survive in the digital economy.
For those businesses without large amounts of working capital or wealthy investors — like many small businesses and startups — it has brought up the idea of building business credit.
Below, ZDNet has all the information you need on how to build business credit.
What is business credit?
At some point, entrepreneurs and business owners consider borrowing money. Many have not accumulated enough capital and cash to hit the ground running right out the gate when starting a business.
Business credit allows a business owner or company to borrow money to build their business, pay for the necessary purchases, or expand their business. Of course, they must pay this money back with interest.
Some businesses do get to the point where they can maintain their working operations off of profits, but most require constant cash flow — good business credit affords this.
However, it isn't as simple as walking into a bank and getting large amounts of cash. Businesses must first work hard to build business credit to qualify for needed loans. It takes patience and the right knowledge to build business credit the right way.
How to build business credit the right way?
Most people are familiar with building credit for personal use — applying for loans, purchasing homes or vehicles, or getting credit cards — building business credit is not much different in principle.
How to choose a business structure?
Unless you plan on being a sole proprietor, you must first establish your business as an entity separate from yourself. Not doing so leaves you open to assuming personal liability if legal issues were ever to arise.
In addition, separating yourself from your business also brings advantages at tax time. The most common business entities are limited liability companies (LLC) and corporations.
How to register your business?
Once the proper business structure is chosen, you need to register your business and apply for a federal tax ID from the IRS — known as an EIN. Without an EIN, you will be unable to open business bank accounts or apply for business lines of credit.
How to establish a business credit profile?
Once your business entity is filed and registered, you can begin the task of building your business credit. To establish a trusted financial reputation among lenders, you will need to have a working business credit file.
Every lender will check your credit profile when you apply for a loan or line of credit. The lender must establish trust with the borrower, making sure money borrowed will be repaid. This is referred to as "creditworthiness."
One way you can begin to develop this trust is by opening a business bank account.
Begin building business credit
There are numerous business bank accounts for traditional banking and online banking. You must find one that suits your business needs.
Consider these when choosing a business bank account:
Is it trusted and secure? Make sure you establish a bank account with a trusted bank, one that is registered and insured by the FDIC. As time goes on, you will also want to ensure your bank is an equal opportunity lender in good standing; all reputable banks are.

Explore the services and management tools. Chances are you will want to apply for a business credit card; if so, what are the APR rates? What type of management tools do they offer for business accounts?

Check the investment rates and maintenance fees. If you're looking to earn interest on your money, what are their APY rates? What are the required minimum balances to take advantage of those rates? Most banks have monthly maintenance fees, another factor to consider.

How are the help and support? New business owners will profit from a bank with professional help centers and financial advisors on-site or within reach. If you're always on the go, does the bank have an app for mobile banking?
Get a business credit card
Another way to help establish your business credit profile and build your business credit is by getting a business credit card. Business credit cards allow business owners to pay for necessary expenses without massive amounts of cash flow while also helping to build a business credit history.
Most come with higher credit limits and bonus rewards that you won't find with personal credit cards.
Here are a few advantages:
More spending for business tools: Business owners, especially startups, can use higher credit limits to invest in the necessary software and business tools they may need. Business credit cards allow you to build business credit as you boost cash flow.

Protection on purchases: As opposed to cash-only purchasing methods, business credit cards often come with protection on purchases — if lost, stolen, or damaged.

Rewards and cashback: Many credit card companies offer rewards for spending, e.g. points or miles to travel. Some offer cashback bonuses after meeting certain spending thresholds.

Building business credit history: Perhaps the most significant advantage for our purposes is the ability to build a business credit history. It is essential to make your credit card payments on time or early to establish a trusted credit history. This will boost your business credit profile and score with credit bureaus.
Explore other forms of business credit
In addition to business credit cards, there are other ways to establish and build business credit. These include different forms such as supplier credit, vendor credits, and service or retail credits.
Supplier credit: Supplier credits are a great way to establish a reputation of trust with your business. Most businesses need a steady stream of supplies and inventory to maintain operation. Supplier credit is an agreement between you and a supplier allowing you to defer payment for supplies. This helps conserve working cash flow and allows you to build credit as you make your payments.

Vendor credit: Like supplier credits, vendor credits allow you to purchase services (or products) from vendors with short-term financing. These payments can be made with a business credit card, allowing you additional time until profits roll in. Again, making payments before or on time is critical.

Service credit: Service credits are usually the simplest form of building credit outside of business credit cards. Services providers — internet, phone, TV, or other utility services — allow business owners to build credit as they make service payments.

Retail credit: Business owners can also establish relationships with their preferred retailers; most offer store credit cards for businesses. This is yet another avenue to build credit as payments are made.

Pay early (or at least on time): Again, it is important to pay these entities on time, but preferably early. It is equally important that these entities report payments to credit bureaus. This will ensure that your business credit profile gets a boost.
Keep building and monitoring your business credit
Once your business credit profile is established, and in good standing, you will have a better opportunity to branch out into other forms of lending — lines of credit and business loans.
Again, it is vitally important that these lenders report to credit bureaus so that your business credit profile and history continue to rise.
It is also essential to monitor your business credit profile to ensure your record is up to date and free of errors. Unfortunately, fraudulent activity happens, and if you are not watching your credit profile regularly, this can have a detrimental impact on your business credit.
Currently, three major companies handle business credit reporting — Equifax, Experian, and Dun & Bradstreet. Each varies slightly in their reporting, but each offers ways to monitor your business credit score and standing and allows you to update business information if the need should arise.
Building business credit is not complicated, but it does take time and dedication. Doing so will ensure that your business is equipped and prepared for whatever the future may hold.
At some point, entrepreneurs and business owners consider borrowing money. Many have not accumulated enough capital and cash to hit the ground running right out the gate when starting a business.
Source: https://www.zdnet.com/article/build-business-credit/
Global Financial Indexes Provider MSCI Plans to Launch Crypto Indexes
Global securities index publisher MSCI is considering launching cryptocurrency indexes. Yet, Henry Fernandez, CEO of the MSCI did not disclose what assets any index would focus on nor any timeline
Global securities index publisher MSCI is considering launching cryptocurrency indexes, Reuters report Thursday.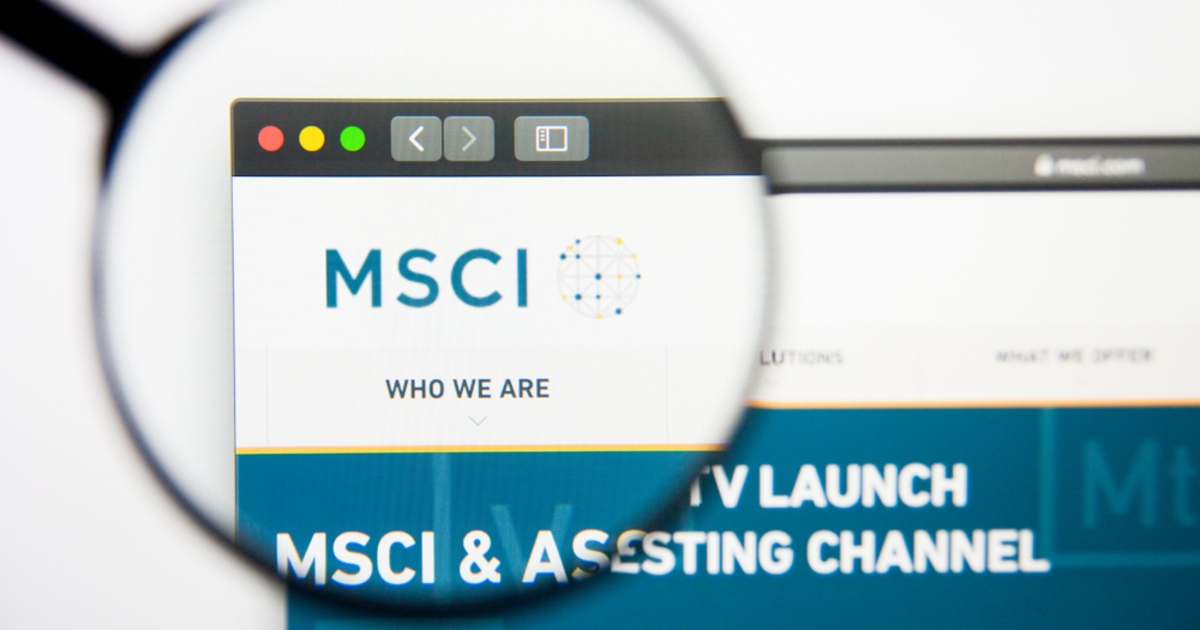 Henry Fernandez, CEO of MSCI- a global securities index issuer, stated that MSCI is considering launching cryptocurrency asset indexes, which will be another step towards mainstream companies accepting digital currencies and related transactions.
The crypto indicators are considered an important step in leading new research and models to accept emerging markets. Yet, Fernandez did not disclose which specific cryptocurrencies will be added and the specific time plan for the introduction. MSCI also declines to elaborate on Fernandez's comments.
With many commercial giants such as MasterCard, Paypal, Square, Goldman Sachs, etc., supporting cryptocurrencies, it seems that cryptocurrency has become an inventable trend as an emerging investment service to join investors' portfolios.
Goldman Sachs, the second-largest US investment bank, has stated in April that it will offer Bitcoin and other crypto products to its private wealth clients within the next few months.
In December last year, The S&P Dow Jones Indices, a global leader in providing investable and benchmark indices to the financial markets, announced that it would be launching index funds for cryptocurrencies in May 2021, including S&P Bitcoin Index, S&P Ethereum Index, and S&P Crypto Mega Cap Index.
These three indexes successfully brought cryptocurrency trading into the Wall Street investment bank predators. Investment institutions can measure the performance of related digital assets through these three indexes and make investment decisions based on this informative data.
Not only the United States own a cryptocurrency index, but also the Singapore Exchange (SGX) has also joined the cryptocurrency index following the trend of the emerging field of cryptocurrency. As early as September last year, Singapore Exchange (SGX) will launch crypto indices—the iEdge Bitcoin Index and iEdge Ethereum Index—in collaboration with UK-based cryptocurrency market data provider CryptoCompare.
Image source: Shutterstock
The crypto indicators are considered an important step in leading new research and models to accept emerging markets. Yet, Fernandez did not disclose which specific cryptocurrencies will be added and the specific time plan for the introduction. MSCI also declines to elaborate on Fernandez's comments.
Source: https://blockchain.news/news/global-financial-indexes-provider-msci-plans-to-launch-crypto-indexes