Grayscale Plans to Offer More Digital Asset Products to Meet Rising Investor Demand
Grayscale Investments LLC has announced plans to explore other digital assets.
Grayscale Investments LLC, the world's largest digital currency asset manager, has announced that it is considering several new digital assets for potential new products. In this way, the New York-based company continues seeking ways to better meet the rising investor demand for exposure to digital assets through regulated, secure, and familiar investment products.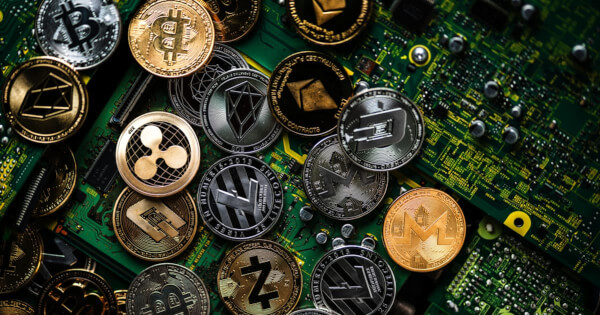 The company is currently considering the following digital assets: Aave (AAVE), Basic Attention Token (BAT), Cardano (ADA), Chainlink (LINK), Compound (COMP), Cosmos (ATOM), Decentraland (MANA), EOS (EOS), Filecoin (FIL), Flow (Dapper Labs) (FLOW), Livepeer (LPT), MakerDao (MKR), Monero (XMR), Numeraire (NMR), Polkadot (DOT), Reserve Rights (RSR), Stacks (STX), Sushiswap (SUSHI), Synthetix (SNX), Tezos (XTZ), The Graph (GRT), Uniswap (UNI), and Yearn Finance (YFI).
Grayscale CEO, Michael Sonnenshein, said: "We may not turn each of these assets into one of our landmark investment products. But as a firm that has been on the vanguard of connecting the legacy financial system with the new, digital currency-driven financial system, we view it as our responsibility to introduce investors to more diversity in this space."
The process of establishing an investment product structured similarly to those that the company already provides a significant consideration and review, and is subject to enormous internal controls, regulatory considerations, and adequately secure custody arrangements. Therefore, there is no guarantee that the assets mentioned above list would get a corresponding investment product. The firm said that any newly-created products will be announced separately upon launch.
Grayscale currently offers eight single asset investment trusts including (Bitcoin (BTC), Bitcoin Cash (BCH), Ethereum (ETH), Ethereum Classic (ETC), Horizen (ZEN), Litecoin (LTC), Stellar Lumens (XLM), and Zcash (ZEC). The firm also provides one diversified fund (Grayscale Digital Large Cap Fund) that offers exposures to top cryptocurrencies by market capitalization.
Emergence of New Competitors
Grayscale's trusts help investors gain exposure to digital assets through a more traditional investment vehicle by purchasing its publicly listed shares.
However, this year has witnessed the launch of multiple competing products. For example, Bitcoin Exchange-Traded Funds (ETFs) are gaining traction as new competitors for Grayscale are emerging. Last month, Osprey Funds LLC launched an over-the-counter (OTC) Bitcoin Trust similar to Grayscale's Bitcoin Trust (GBTC). Besides that, ETFs seems to be taking off in Canada. During this month, the Ontario Securities Commission, Canada's securities regulator, approved the launch of Purpose Bitcoin ETF by Purpose Investment Inc Toronto-based asset management firm. Evolve Funds Group Inc. also launched its Bitcoin ETF that started trading on the Toronto Stock Exchange.
The rising competition has impacted Grayscale's business. Specifically, competition may erode the demand for the Grayscale Bitcoin Trust (GBTC) product, which could result in a collapsing premium or even a discount. GBTC currently holds more than 655,750 Bitcoins worth of $31.6 billion. However, this week the $31.6 billion has dropped by 21% as investors have rushed to sell off their holdings.
Image source: Shutterstock
Source: https://blockchain.news/news/grayscale-plans-offer-more-digital-asset-products-meet-rising-investor-demand
Ethereum is Expected to Undergo a 90% Daily Emission Reduction Following ETH 2.0 Upgrade
Market analyst Lark Davis believes that Ethereum 2.0 upgrade will prompt a 90% daily emission reduction from 12,800 to 1,280.
Ethereum (ETH) was up by 9.72% in the past week to breach the psychological price of $2K during intraday trading. ETH's price stood at $2,056 as the second-largest cryptocurrency continues to gain momentum.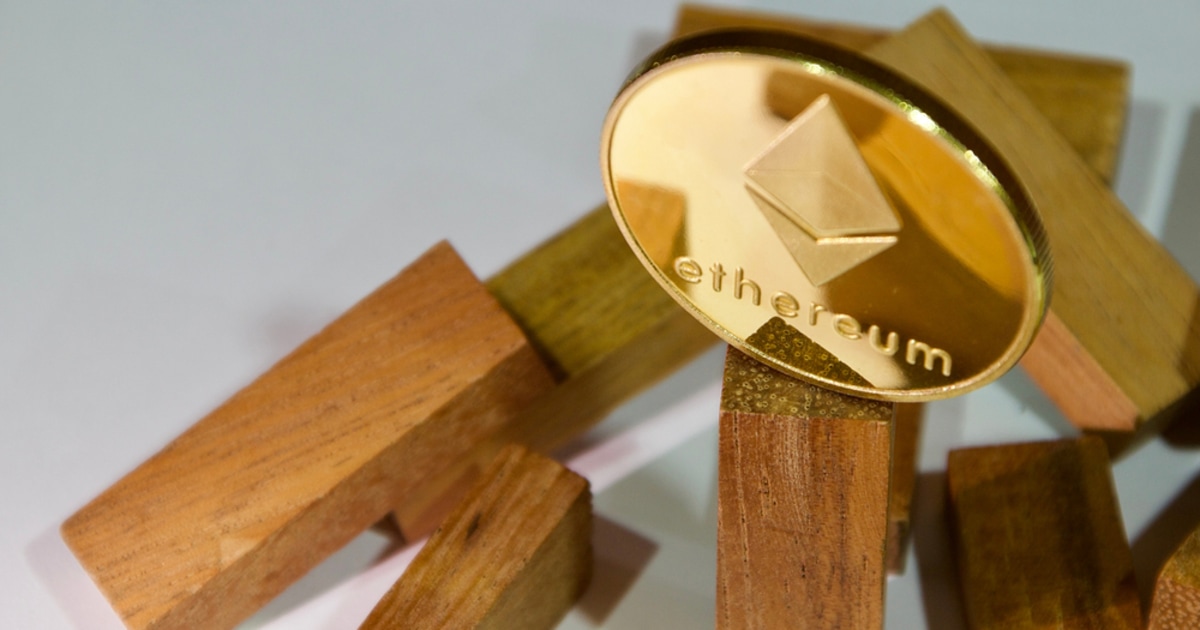 Market analyst Lark Davis believes that the upgrade of Ethereum 2.0 will prompt a 90% daily emission reduction from 12,800 to 1,280. He explained:
"The other wildly important aspect of The Merger is that ETH will undergo a 90% reduction in daily emission. Basically from 12,800 a day to 1,280 a day. Yearly inflation from 4.3% down to 0.43%. This is equivalent to 3 Bitcoin halvings, and is only months away."
Ethereum 2.0, also known as the Beacon Chain, was launched in December 2020 and was regarded as a game-changer that seeks to transit the current proof-of-work (POW) consensus mechanism to a proof-of-stake (POS) framework.
Davis also noted that Ethereum would experience "Triple Halving" as part of the ETH 2.0 upgrade, a highly significant economic event for the asset's price in the coming years.
Ethereum whales cumulatively hold 60.52 million ETH
According to on-chain metrics provider Santiment:
"Ethereum whales that hold between 10k and 1 million ETH in their respective wallets now own a cumulative total of 60.52m coins. This is the highest amount held by this tier since in 5 weeks, and represents a 1.65million ETH accumulation in the past 6 days."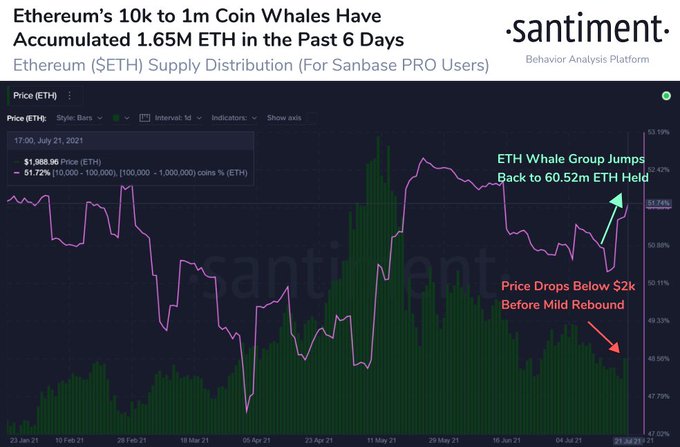 Therefore, ETH whales continue investing in this asset, which indicates high confidence levels.
Ethereum has been making headlines based on its notable strides. For instance, ETH has had an impressive return on investment (ROI) of 171% this year compared to tech stocks like Microsoft, Facebook, and Apple. Furthermore, Davis had previously noted that Ethereum was settling three times more value on-chain than Bitcoin daily.
Image source: Shutterstock
"The other wildly important aspect of The Merger is that ETH will undergo a 90% reduction in daily emission. Basically from 12,800 a day to 1,280 a day. Yearly inflation from 4.3% down to 0.43%. This is equivalent to 3 Bitcoin halvings, and is only months away."
Source: https://blockchain.news/analysis/ethereum-is-expected-undergo-a-90-percent-daily-emission-reduction-following-eth-2.0-upgrade
South Korea Authorities Seizes $47M in Crypto from Tax Evaders
South Korean authorities have made the largest crypto seizures in the country's history. $47 million in digital currencies have been confiscated.
Authorities in the South Korean province of Gyeonggi have conducted the largest tax seizures ever, seizing $47 million in Bitcoin (BTC) and Ethereum (ETH).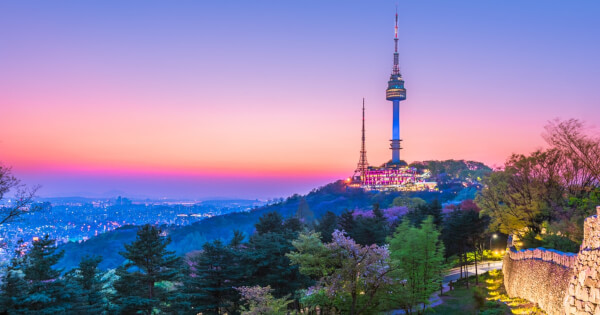 According to the coverage reported by the Financial Times, the seizure involved about 12,000 tax evaders. The authority has called the action the largest "cryptocurrency seizure for back taxes in Korean history."
Those "tax dodgers" committed the crime by connecting their trading or investment activities on trading platforms operating in the country with their phone numbers. The process, though rigorous, had to be done manually as crypto exchanges were unable to fully provide the Know-Your-Customer (KYC) details of the defaulting taxpayers. In addition, the FT report was unclear which digital currency trading platform was involved in the investigation.
South Korea has a robust cryptocurrency trading engagement amongst its citizens, and the country has been making moves to implement accomodating regulations. One of these is the law passed by the Korean National Assembly in March 2020. This law mandates cryptocurrency exchanges to take down customer's details through KYC and obtain licenses to operate from banks.
While big exchanges such as UpBit have been able to comply, other smaller trading platforms have had their struggles in complying, a situation that was compounded by financial institutions dissociating from crypto exchanges. Besides these, South Korea has long been mulling enforcing a 20% capital gains tax on cryptocurrencies, all of which will be made easier with compliant crypto exchanges.
South Korea is one of the more receptive countries to blockchain and cryptocurrency-related innovations. While crypto has thrived in the country in the past decade, the government is taking bold steps to develop its own Central Bank Digital Currency, the Digital Won. Despite its soft stance, however, the nation has zero-tolerance for fraud amongst crypto entities, as showcased in the ongoing raid of Bithumb exchange amidst a broad fraud investigation.
Image source: Shutterstock
Source: https://blockchain.news/news/south-korea-authorities-seizes-47m-in-crypto-from-tax-evaders
MicroStrategy Acquires Extra 13,005 Bitcoins, Owning Over 100,000 BTC
MicroStrategy CEO Michael Saylor confirmed the firm acquires additional 13,005 Bitcoins, by spending roughly $489 million in cash at an average price of around $37,617 per bitcoin. The company now
Leading American business intelligence firm MicroStrategy is not relenting in its quest of purchasing more Bitcoin, acknowledged by the firm's CEO Michael Saylor.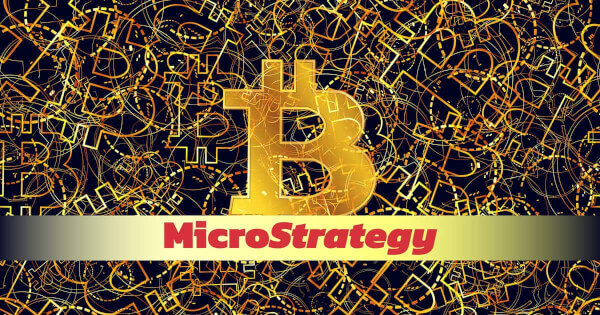 The MicroStrategy CEO said:
"MicroStrategy has purchased an additional 13,005 Bitcoins for ~$489 million in cash at an average price of ~$37,617 per bitcoin. As of 6/21/21 we hodl ~105,085 bitcoins acquired for ~$2.741 billion at an average price of ~$26,080 per bitcoin."
MicroStrategy has set a precedent in the institutional investment space because its BTC holding is one of the highest.
Previously, Saylor had indicated that the firm was embracing Bitcoin for the long term.
MicroStrategy, therefore, seems to be taking advantage of the current ranging BTC market because it has spent the last two months consolidating between $30,000 and $40,000.
Bitcoin is back at the range low
Bitcoin plunged to lows of $32k amid intensified FUD (fear, uncertainty, and doubt) sentiment from China triggered by a nationwide BTC mining crackdown.
For instance, China's third-largest bank, the Agricultural Bank of China, issued an announcement prohibiting bitcoin and other cryptocurrency transactions through Agricultural Bank's banking system.
These restrictions imposed by Chinese banks on cryptocurrencies caused a large-scale sell-off of the Bitcoin bearish side.
Therefore, market analyst Michale van de Poppe noted that Bitcoin was back at the range low, and the leading cryptocurrency needed to hold this area to avoid a further drop to $24k.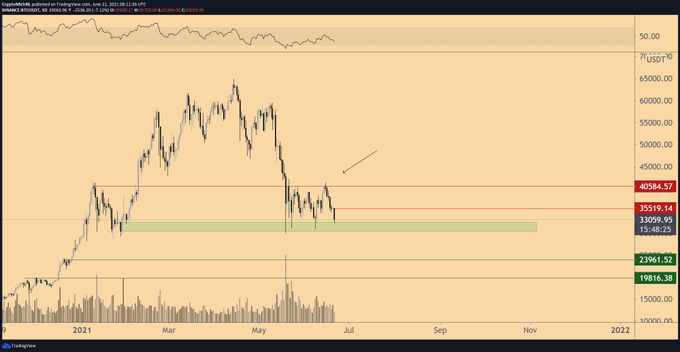 On-chain analyst Ali Martinez echoed these sentiments. He stated:
"On-chain data from IntoTheBlock shows that the most significant support zone underneath Bitcoin sits between $31.7K and $33.5K where roughly 573K addresses bought 487K BTC. Losing this area as support could push BTC to the next critical demand barrier at $23.4K."

With retail momentum on the Bitcoin network slowing down amid sinking social sentiment, it remains to be seen whether renewed institutional interest from firms like MicroStrategy will give BTC the much-needed upward momentum.
Image source: Shutterstock
Previously, Saylor had indicated that the firm was embracing Bitcoin for the long term.
Source: https://blockchain.news/news/microstrategy-acquires-extra-13-005-bitcoins-owning-100000-btc