Coinbase and Binance.US Will Support Flare Network's Spark Token Airdrop, Ripple's XRP Price Could Dip
Crypto exchanges Coinbase and Binance US have lent support for the Flare Network's Spark Token airdrop sending XRP price slightly higher….
Major cryptocurrency exchanges Coinbase and Binance US are the latest exchanges that have announced support for the Flare Network's upcoming Spark airdrop, which saw Ripple's XRP token price surge briefly before once again correcting below the $0.60 resistance.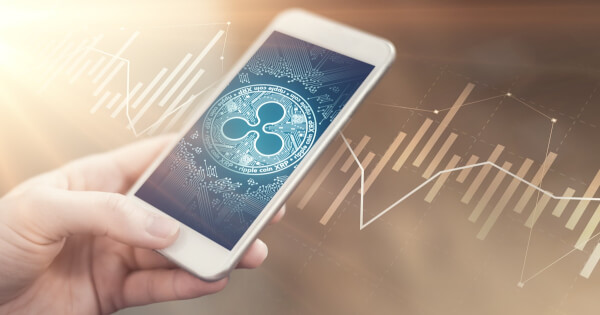 The Spark Airdrop from the Flare Network, a smart contract platform solidly backed by Ripple has been the main point of talk in the Ripple community lately with an initial scare that key exchanges including Coinbase and Binance US amongst others will not be participating.
The Flare airdrop will be taking place on the 12th of December with a total of 45 billion tokens scheduled to be distributed among the holders of XRP on a 1:1 basis. As noted by Coinbase, the eligibility for participating in the airdrop is to be an XRP coin holder.
Coinbase exchange announced in a blog post:
"If you are an eligible customer holding an XRP balance on Coinbase or Coinbase Pro on the snapshot date and time of December 12, 2020, 00:00 AM UTC, you'll receive Spark tokens from Coinbase at a later date after the Flare network launch. The amount of Spark you'll receive depends on how much XRP you had in your account at the snapshot time."
The move by Binance US is also a complement to the main Binance exchange that announced its support much earlier. By the support for the much-anticipated Spark airdrop, Coinbase, and Binance US customers with the former having a total XRP locked amount of $3 billion will be able to partake in the airdrop.
Implications for the XRP Coin
The XRP coin has coasted higher in the past days with the Flare Network's Spark token airdrop contributing to the bullish run of the coin closely associated with the payment company Ripple. According to Coingecko, XRP price has surged by 178.7% in the past one year with a corresponding growth of 149.2% in the past month.
For a coin that has been battling regulatory uncertainty with the SEC, the gains are impressive and further boosted with the news of the Spark Token airdrop as Blockchain.news reported. With XRP price currently up 1.6% in the past 24 hours, the growth momentum of the third biggest coin by market capitalization is however not a promising one in the near-term.
Source: TradingView XRP/USD
The XRP token is trading at $0.59 at time of writing, still moving sideways along the $0.60 resistance level. From the XRP-USD chart on TradingView, the XRP coin has a Relative Strength Index (RSI) of 49.83, a below neutral position that suggests that market bears are wresting control of the market and we could expect a dip in the XRP price in the short-term before the bulls return. The 20-day Moving Average is also not bullish and further supports the position that investors should be watchful in order not to be caught by surprise in the next few days as we expect Ripple's XRP token price to dip below $0.55 before resuming its bull run.
Image source: Shutterstock
Source: https://blockchain.news/news/coinbase-and-binance-us-will-support-flare-networks-spark-token-airdrop-ripples-xrp-price-could-dip
Eco-friendly sneaker maker Allbirds aims for $2 bln valuation in U.S. IPO
Eco-friendly sneaker maker Allbirds Inc said on Monday it aims to be valued at over $2 billion in its New York IPO, joining a growing number of firms tapping into surging consumer demand and investor interest for such products.
Oct 25 (Reuters) – Eco-friendly sneaker maker Allbirds Inc said on Monday it aims to be valued at over $2 billion in its New York IPO, joining a growing number of firms tapping into surging consumer demand and investor interest for such products.
The company, backed by asset manager Franklin Templeton, said it is offering 19.2 million shares priced between $12 and $14 each, along with the selling stockholders. At the top end of that range, the IPO would fetch about $269 million.
As global calls grow to limit global warming and switch to more environmentally friendly ways of living, several companies have come under investor and activist pressure to contribute to the change.
Among a handful of startups that recently tapped into investor interest in such sustainable offerings were Oprah Winfrey-backed vegan milk maker Oatly Group AB (OTLY.O) and Jessica Alba's consumer goods company Honest Co (HNST.O). read more
Founded in 2015, Allbirds is also backed by Oscar-winning actor Leonardo DiCaprio and uses wool, fiber derived from eucalyptus and other plant-based alternatives in its products. It has partnered with Adidas to create a range of sustainable sneakers, some of which have become immensely popular across Silicon Valley where the company is headquartered.
Numerous celebrities, top business executives and high-profile personalities such as Barack Obama, Ashton Kutcher and Google co-founder Larry Page have been spotted wearing Allbirds sneakers in recent years.
Allbirds, however, toned down some of its environmental references in an amended filing earlier this month. The company, which said in August it would pioneer a framework to conduct the first-ever "sustainable public equity offering", later removed references to the claim.
In its latest filing, Allbirds said it expects net revenue to grow up to 32% to $62.5 million for the three months ended Sept. 30, due to higher sales at its physical stores.
However, higher expenses are expected to drive up net losses to about $15 million to $18 million in the quarter, from nearly $7 million a year earlier.
Morgan Stanley, J.P. Morgan and BofA Securities are the lead underwriters for the offering.
Reporting by Niket Nishant in Bengaluru; Editing by Ramakrishnan M.
Our Standards: The Thomson Reuters Trust Principles.
Founded in 2015, Allbirds is also backed by Oscar-winning actor Leonardo DiCaprio and uses wool, fiber derived from eucalyptus and other plant-based alternatives in its products. It has partnered with Adidas to create a range of sustainable sneakers, some of which have become immensely popular across Silicon Valley where the company is headquartered.
Source: https://www.reuters.com/business/retail-consumer/footwear-maker-allbirds-targets-over-2-bln-valuation-us-ipo-2021-10-25/
Comcast gave me good, precise news. The truth was precisely the opposite
Many companies believe that technology is perfect for customer service communication. Often, though, it just isn't.
Please be infinitely accurate, Comcast.
These things happen.
Yes, all too often they happen at very awkward times.
But we've allowed ourselves to be at the mercy of technology these days, so who are we to complain.
There I was on a recent Friday afternoon, writing several things and watching something on TV. This was my form of dedicated multitasking.
Suddenly, my tasks ground to a halt: All of my Comcast systems went down.
No TV, no internet, no life. (Schopenhauer was the first to say that.)
At least my iPhone was working, so I went to the Xfinity website to see what had happened and when it might unhappen.
The engineers were working on the outage, I was told. Would I like to sign up for texted updates? Of course I would.
Precision Is A Wonderful Thing.
So I sat, waited, and watched.
The first texted offering was that the outage would be fixed by 5:54 p.m. I sat, waited, and remembered I had an Xfinity app on my phone. I tried opening that too, just in case there was more immediate news.
I tried reading a book, but I had those things to do. They were quite urgent, so I became somewhat itchy.
5:53 p.m. came along. It had been more than three hours. But, when you're told such a precise time, you believe that the texting entity is very sure that the outage is fixable by that time.
At 5:54 p.m. came the bad news. It would be precisely 9:54 p.m. Oh dear. This evening wasn't going well.
My wife and I cooked. We sat at the dining table, facing each other. We talked. You see, there's something marvelous about a Comcast outage. It eliminates the temptation of a TV dinner. Instead, you chat about how annoying it is that there's a Comcast outage.
But I needed to get those things done that night. Because I did. We had plans for the weekend and we wanted to stick to them.
After Midnight. You Can't Let It All Hang Out.
Next came a new update. The outage wouldn't be fixed at all that day. Instead, it was now going to be 12:10 a.m. the next day. Precisely.
Please forgive me if, by this stage, I was getting a touch annoyed with this useless precision. Why be so exact when all you're doing is exacting my nerve ends?
I can appreciate that some things are harder to fix than others. Yet if you're giving customers such precise information, shouldn't they expect to trust that information?
And when they discover that the information is precisely useless, won't you be driving them precisely bonkers?
As the evening began to concede that night was approaching, I kept refreshing my Xfinity app. I feared the next update would say "in three days time, at precisely 3:43 p.m." I feared I may not even get a text to confirm it, as the texting machines hadn't been in touch.
Somewhere near 10 p.m., the app refreshed and there was suddenly no mention of an outage.
I tried turning on the TV. It worked. The internet chugged back up. I could do the things I had to do, through yawns of joy.
Curiously, though, I hadn't received a text to say that everything was working again. Which, lest you forget, was the reason I signed up for the texted updates in the first place.
Of course I could forgive Comcast. It's compulsory. The company has become somewhat more customer-oriented over the last couple of years. I know it's been trying.
Oh, but then came Saturday. I could watch Premier League football (saacker) from the very earliest hours. I could watch golf. I could ignore college football.
Good News. Really Good, Imprecise Late News.
Later we went out, sticking to our plans. It was a lovely afternoon. We were in Safeway buying soup and chicken.
Suddenly, a text. Yes, from the Xfinity out there, also known as Comcast.
It began: "Good news."
I was going to get a rebate for the complete lack of services that lasted seven hours?
Hope is the mansion with non-existent foundations.
Instead, Comcast texted me: "The outage has been resolved at approximately 3:28 p.m. PDT."
Please imagine the depths of my pained chuckle. Comcast wanted me to know that it had just fixed the outage that it had fixed the previous evening.
So who had I been receiving Comcast services from the previous night and that morning? From the Xfinity Space Station?
And please note the utter deliciousness of the word approximately. Having been so definitive about the time of fixing, now I was only offered an approximation.
The text didn't stop there, though.
It added: "Thanks for your patience. Your services should be back up and running. Let me know if you're still experiencing service issues."
Should be back up and running? But you told me precisely that the outage was resolved.
Naturally, this all caused me to worry.
As with my abject text-based experience with FedEx a couple of weeks before, I fear that companies have no control over the texts they send to customers.
If you're going to do it, please be accurate. If you're going to use such technology, make sure it's not dribbling finger-in-the-air precision that can only frustrate your customers more.
It's fine to apologize. It's less fine to offer the wrong information.
If you can't make the system work, don't have the system.
Oh, what am I saying? Technology is customer service these days.
Source: https://www.zdnet.com/article/comcast-gave-me-good-precise-news-the-truth-was-precisely-the-opposite/
Sex differences in COVID-19 outcomes
Credit: Mary Ann Liebert, Inc., publishers In a study of more than 10,600 adult patients hospitalized with COVID-19, women had
In a study of more than 10,600 adult patients hospitalized with COVID-19, women had significantly lower odds than men of in-hospital mortality. They also had fewer admissions to the intensive care unit and less need for mechanical ventilation. Women also had significantly lower odds of major adverse events, including acute cardiac injury, acute kidney injury, and venous thromboembolism, according to an article in the peer-reviewed Journal of Women's Health. Click here to read the article now.
"This comprehensive analysis is the largest study to date that directly assesses the impact of sex on COVID-19 outcomes," stated Rachel-Maria Brown, MD, Zucker School of Medicine at Hofstra/Northwell, and coauthors. "Our study strongly demonstrates female sex to be associated with lower odds of in-hospital outcomes, major adverse effects and all-cause mortality as compared to male sex after controlling for confounding variables." The authors propose some of the protective factors that may contribute to these findings.
In the accompanying editorial entitled "Lessons Learned from COVID-19 Sex Disparities," Annabelle Santos Volgman, MD, Rush University Medical Center, and coauthors, suggest various mechanisms by which female sex may confer a protective advantage against COVID-19 infection. One advantage may be the extra X chromosome, which carries multiple genes responsible for innate and adaptive immunity.
Volgman and coauthors emphasize that "although women have less mortality risk with COVID-19, we need to exercise caution not to send a message to deliver subpar care to women with COVID-19 or decrease measures to prevent their infection. Our evolving knowledge should not reduce attention paid to women admitted for COVID-19."
###
Research reported in this publication was supported by the National Institutes of Health under Award Number R24AG064191, R01LM012836, R01 NR018443. The content is solely the responsibility of the authors and does not necessarily represent the official views of the National Institutes of Health.
About the Journal
Journal of Women's Health, published monthly, is a core multidisciplinary journal dedicated to the diseases and conditions that hold greater risk for or are more prevalent among women, as well as diseases that present differently in women. Led by Editor-in-Chief Susan G. Kornstein, MD, Executive Director of the Virginia Commonwealth University Institute for Women's Health, Richmond, VA, the Journal covers the latest advances and clinical applications of new diagnostic procedures and therapeutic protocols for the prevention and management of women's healthcare issues. Complete tables of content and a sample issue may be viewed on the Journal of Women's Health website. Journal of Women's Health is the official journal of the Society for Women's Health Research.
About the Publisher
Mary Ann Liebert, Inc., publishers is known for establishing authoritative peer-reviewed journals in many promising areas of science and biomedical research. A complete list of the
Source: https://bioengineer.org/sex-differences-in-covid-19-outcomes/