Coinbase and Binance.US Will Support Flare Network's Spark Token Airdrop, Ripple's XRP Price Could Dip
Crypto exchanges Coinbase and Binance US have lent support for the Flare Network's Spark Token airdrop sending XRP price slightly higher….
Major cryptocurrency exchanges Coinbase and Binance US are the latest exchanges that have announced support for the Flare Network's upcoming Spark airdrop, which saw Ripple's XRP token price surge briefly before once again correcting below the $0.60 resistance.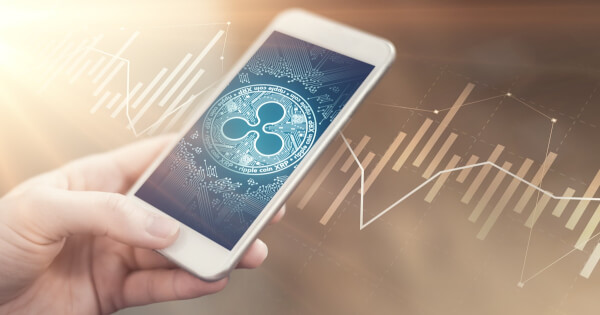 The Spark Airdrop from the Flare Network, a smart contract platform solidly backed by Ripple has been the main point of talk in the Ripple community lately with an initial scare that key exchanges including Coinbase and Binance US amongst others will not be participating.
The Flare airdrop will be taking place on the 12th of December with a total of 45 billion tokens scheduled to be distributed among the holders of XRP on a 1:1 basis. As noted by Coinbase, the eligibility for participating in the airdrop is to be an XRP coin holder.
Coinbase exchange announced in a blog post:
"If you are an eligible customer holding an XRP balance on Coinbase or Coinbase Pro on the snapshot date and time of December 12, 2020, 00:00 AM UTC, you'll receive Spark tokens from Coinbase at a later date after the Flare network launch. The amount of Spark you'll receive depends on how much XRP you had in your account at the snapshot time."
The move by Binance US is also a complement to the main Binance exchange that announced its support much earlier. By the support for the much-anticipated Spark airdrop, Coinbase, and Binance US customers with the former having a total XRP locked amount of $3 billion will be able to partake in the airdrop.
Implications for the XRP Coin
The XRP coin has coasted higher in the past days with the Flare Network's Spark token airdrop contributing to the bullish run of the coin closely associated with the payment company Ripple. According to Coingecko, XRP price has surged by 178.7% in the past one year with a corresponding growth of 149.2% in the past month.
For a coin that has been battling regulatory uncertainty with the SEC, the gains are impressive and further boosted with the news of the Spark Token airdrop as Blockchain.news reported. With XRP price currently up 1.6% in the past 24 hours, the growth momentum of the third biggest coin by market capitalization is however not a promising one in the near-term.
Source: TradingView XRP/USD
The XRP token is trading at $0.59 at time of writing, still moving sideways along the $0.60 resistance level. From the XRP-USD chart on TradingView, the XRP coin has a Relative Strength Index (RSI) of 49.83, a below neutral position that suggests that market bears are wresting control of the market and we could expect a dip in the XRP price in the short-term before the bulls return. The 20-day Moving Average is also not bullish and further supports the position that investors should be watchful in order not to be caught by surprise in the next few days as we expect Ripple's XRP token price to dip below $0.55 before resuming its bull run.
Image source: Shutterstock
Source: https://blockchain.news/news/coinbase-and-binance-us-will-support-flare-networks-spark-token-airdrop-ripples-xrp-price-could-dip
Target, CVS, Starbucks and other retailers ease mask mandates for fully vaccinated customers
Target, CVS and Starbucks joined a growing list of retailers and restaurants that will ease mask requirements for fully vaccinated customers.
Shoppers wear protective masks inside a Target Corp. store in New York, U.S., on Saturday, Aug. 15, 2020. Target is scheduled to release earnings figures on August 19.
Jeenah Moon | Bloomberg | Getty Images
The CDC said Thursday that fully vaccinated people do not need to wear a mask or stay 6 feet apart from others in most cases, whether indoors or outdoors. People are considered fully vaccinated two weeks after they receive the second dose of the Pfizer–BioNTech or Moderna vaccines or the single dose of Johnson & Johnson.
The sudden change by the federal agency prompted confusion and some criticism. Over the weekend, CDC director Dr. Rochelle Walensky and White House chief medical advisor Dr. Anthony Fauci made rounds on news programs to explain and defend the policy change.
Some feel the new guidance will encourage more people to get inoculated, but others are concerned the policy relies too heavily on people being honest about their vaccination status. The possibility that unvaccinated people may go maskless is a concern for those who are not yet vaccinated or have children under 12 years of age who cannot yet receive the vaccine.
As of Saturday, roughly 47% of the U.S. population have received at least one vaccine dose, according to the CDC. About 37% are fully vaccinated, according to the agency.
All of the retailers said they would follow local mandates, which are also changing. New York state said Monday it will allow people to skip masks if they are fully vaccinated, starting Wednesday. Masks will still be required in some settings, such as public transit and health-care facilities, according to federal guidelines. California health officials said Monday that they're sticking to the plan to keep the mask mandate until June 15, which was set before the CDC released its updated guidance.
Retailers that changed their mask policies did not announce plans to check customers' vaccination status. They asked those who are not vaccinated to continue wearing masks in their stores. The companies have taken different approaches with their workforces.
In a statement, CVS said it would still require its employees to wear masks while at work. Chipotle restaurant workers will still be required to wear masks, according to Chief Corporate Affairs Officer Laurie Schalow. Target said in a statement that its employees who are fully vaccinated will not have to wear masks — but said it would keep other safety measures, such as extra cleaning and social distancing in its stores.
Starbucks' new mask policy does not appear to apply to baristas. Since February, the coffee chain has required its restaurant workers at company operated locations in the U.S. and Canada to wear multi-ply facial coverings, or double mask. Starbucks has required facial coverings inside its cafes for customers since July 15.
.
Source: https://www.cnbc.com/2021/05/17/starbucks-updates-mask-policy-for-vaccinated-customers.html
Disneyland Paris to re-open on June 17
Disneyland Paris (DIS.N) said on Monday that it would re-open on June 17, as French bars, restaurants and tourism sites gradually resume their operations after having been shut due to COVID-19 sanitary restrictions.
Disneyland Paris (DIS.N) said on Monday that it would re-open on June 17, as French bars, restaurants and tourism sites gradually resume their operations after having been shut due to COVID-19 sanitary restrictions.
Our Standards: The Thomson Reuters Trust Principles.
Source: https://www.reuters.com/lifestyle/disneyland-paris-re-open-june-17-2021-05-17/
How Crocs used robots to rule the comfort economy
Sweatpants and comfortable kicks have had a heck of a run during the pandemic. You can thank the robots.
Over the last year, Crocs emerged as a stay-at-home comfort essential and experienced unprecedented demand. As a result, the company quickly outgrew their distribution center and moved their e-commerce fulfillment into a larger pop-up warehouse. Included in the design was a recommendation to bring in automation to improve throughput, mitigate the risk of labor challenges and optimize capacity.
That's where the robots, and in particular the automation solutions of a firm called 6 River Systems (6RS), come in.
Since implementing 6RS' wall-to-wall fulfillment solution, including its collaborative mobile robot Chuck, Crocs has seen a 182% pick rate improvement. This increase in throughput was critical during the 2020 holiday peak season, and allowed Crocs to handle up to 4ok units per day, ensuring they were meeting heightened customer expectations.
Robots have become essential to scaling, and the solutions can now be brought online with unprecedented speed and minimal downtime. I spoke with Jerome Dubois, Co-Founder and Co-CEO of 6RS, to learn more about why warehouse automation was an essential component to scaling Crocs' fulfillment operation and what the future holds for operations optimization.
GN: The setup and integration in the Crocs case seems quick. How does 6RS prioritize reducing downtime and how is it possible the automation solution is up and running so quickly?
Jerome Dubois: Over the course of the COVID-19 pandemic, Crocs has quickly become a comfort essential while most daily activities have been confined to our homes. As a result, their ecommerce demand took off in 2020 beyond the retailer's expectations, and Crocs realized the need for a second distribution center to fulfill this heightened demand.
The Crocs' team tapped our wall-to-wall fulfillment solution, powered by our autonomous mobile robot (AMR) Chuck, to help support fulfillment operations. Chuck is a collaborative mobile robot that uses machine learning and AI to guide associates through their work zones to help them minimize walking, stay on task and work more efficiently. Chuck, along with our cloud-based software and partner integrations, supports the entire fulfillment process.
The full design, integration and deployment for Crocs was completed in under 3 months just before holiday peak 2020. When go-live took place in early October 2020, the site ramped from first pick to full volume in just two days.
To achieve this, our team has an extensive, collaborative planning stage for any deployment. We develop a detailed plan before hitting the ground, which includes warehouse design and mapping, clear business objectives and a roadmap for achieving them. When designing a warehouse plan, every decision can have a significant impact on operational efficiency. Once a clear plan is in place that is tailored to that warehouse, implementation is usually quick and seamless. This timeline is fairly typical for our implementations as we prioritize our clients' time and help them achieve results as quickly as possible.
GN: What's the sweet spot for 6RS in terms of manufacturing capacity and ROI. In other words, at what size would implementation start to make sense?
Jerome Dubois: In most cases, 6 River Systems can accommodate several different capacities due to the flexibility that our wall-to-wall fulfillment system provides. The system allows for Chucks to be added or removed based on demand and available labor. The solution can be used in all put-away, picking, counting, replenishment and sorting tasks, helping associates work faster while also reducing picking errors. The power of our solution really shows in warehouses over 20,000 square feet that average a unit volume greater than 15,000 per day. These warehouses typically have over 5,000 SKUs with associates picking for at least 8 hours per day. On average, customers of all sizes improve pick rates by 2-3x and see ROI in less than a year.
GN: Are there other customers you can speak about publicly that might resonate with readers?
Jerome Dubois: One of our customers that might resonate with readers is Office Depot, a household name in the office supply space and one of the largest suppliers in the U.S. When Office Depot's demand began shifting across e-commerce, B2B and retail, Office Depot found itself fulfilling more customer orders that contain fewer items per package. The company turned to 6 River Systems to help address the challenges of increased order volume and varied consumer purchasing behaviors by implementing Chucks. As a result, Office Depot improved warehouse safety, engaged and rallied its staff, reduced needless walking and sped up training with 6RS and Chuck. They eliminated warehouse injuries by 100% and reduced associate training time down to just one day. Full case study here.
Jerome Dubois: Over the course of the COVID-19 pandemic, Crocs has quickly become a comfort essential while most daily activities have been confined to our homes. As a result, their ecommerce demand took off in 2020 beyond the retailer's expectations, and Crocs realized the need for a second distribution center to fulfill this heightened demand.
Source: https://www.zdnet.com/article/how-crocs-used-robots-to-lead-the-comfort-economy/