Bitcoin's Dominance Continues as BTC Undergoes Third Parabolic Advance with a Target of $240k
Crypto trader Michael van de Poppe has delved deeper into Bitcoin's trend and indicated that BTC's dominance will continue moving upwards.
Bitcoin (BTC) is now the talk of the town after surging past $50,000. The leading cryptocurrency has been up 5.4% in the past 24 hours to trade at $52,895.75 at the time of writing, according to data from CoinMarketCap.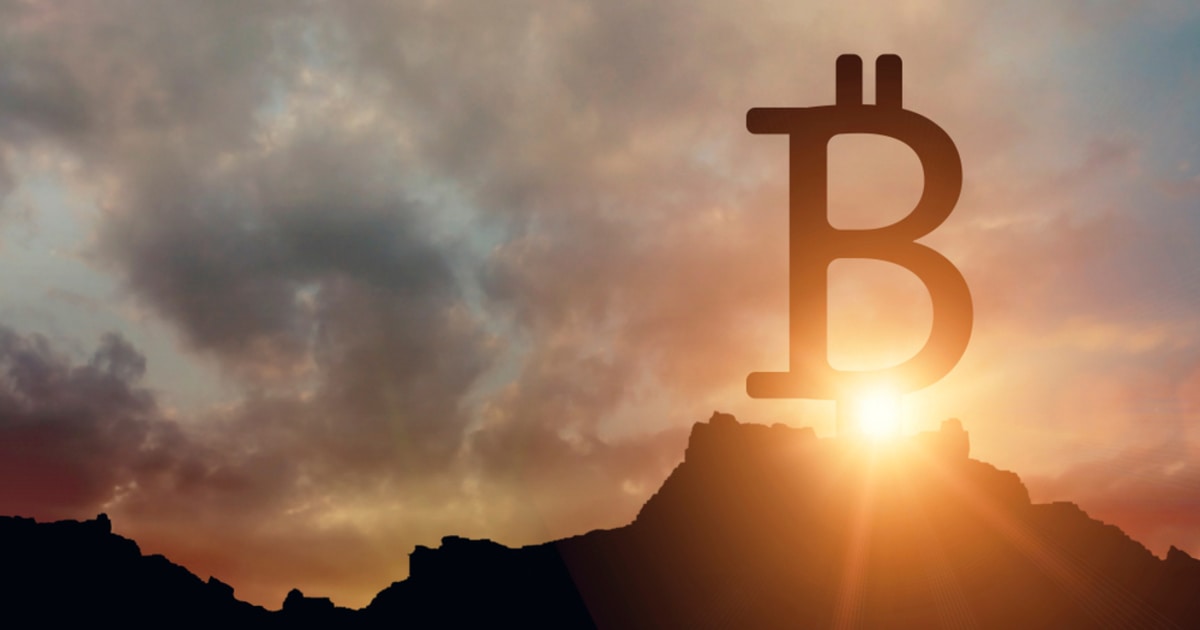 Crypto trader Michael van de Poppe has delved deeper into this trend and indicated that BTC's dominance chart will continue moving upwards. He explained:
"I'm still expecting the Bitcoin dominance chart to be running upwards from here, as frequently the coming weeks/few months are such a period. After that, the massive altsummer should emerge."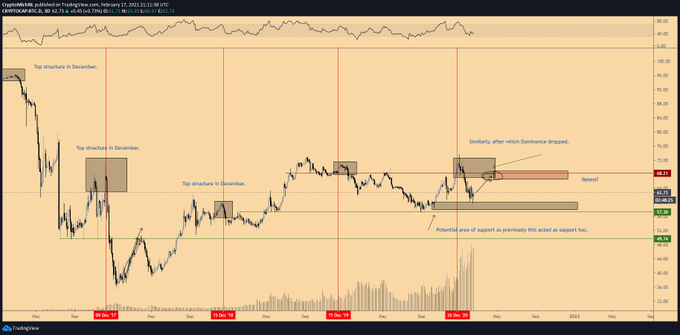 Michael van de Poppe believes that the current Bitcoin uptrend will be pivotal in triggering a bull run in altcoins. BTC's popularity has skyrocketed based on its widespread adoption in the corporate world, with giants like Microstrategy and Square setting the pace.
IntoTheBlock recently disclosed that widespread institutional interest is booming based on the average transaction size on the Bitcoin network. The crypto data provider noted:
"On-chain data suggests that the Bitcoin widespread institutional interest may have already begun. ‍The average transaction size recorded on the Bitcoin blockchain recently hit a record of $440,000. This metric has increased by a whopping 16x in just 12 months."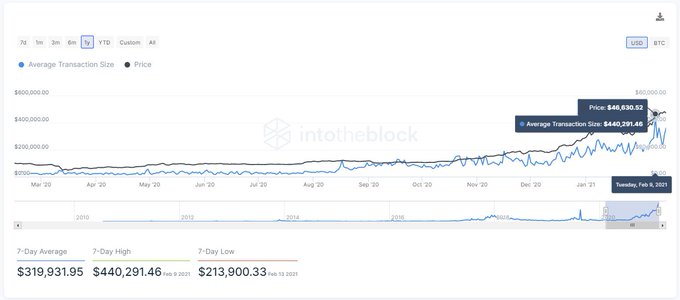 The emergence of the third parabolic advance
Veteran trader Peter Brandt trusts that BTC is experiencing its third parabolic advance in its history, which is rare. He acknowledged:
"Bitcoin is undergoing its third parabolic advance in the past decade. A parabolic advance on an arithmetic scale is extremely rare – three on a log scale is historic."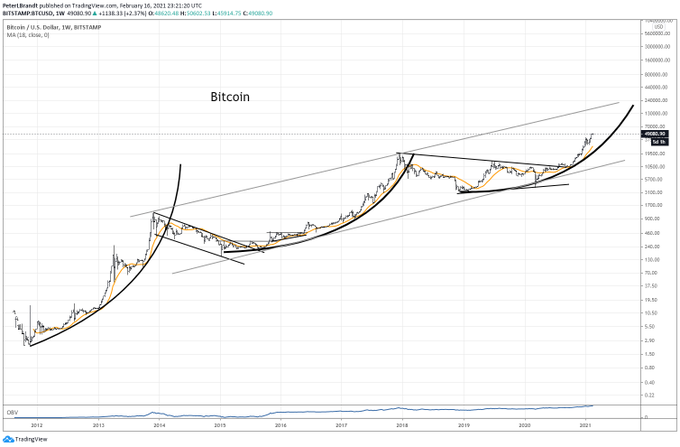 This parabolic advance shows BTC's target is $240,000 in the long-term. Yann & Jan, the co-founders of leading on-chain data provider Glassnode, pointed out that the level of consolidation Bitcoin has experienced since January has been surreal, as $48,000 has become the new support level. They noted:
"The amount of consolidation Bitcoin has seen since January is unreal. It really allowed fundamentals to catch up and indicators to reset. Looks like $48k is the new $35k now."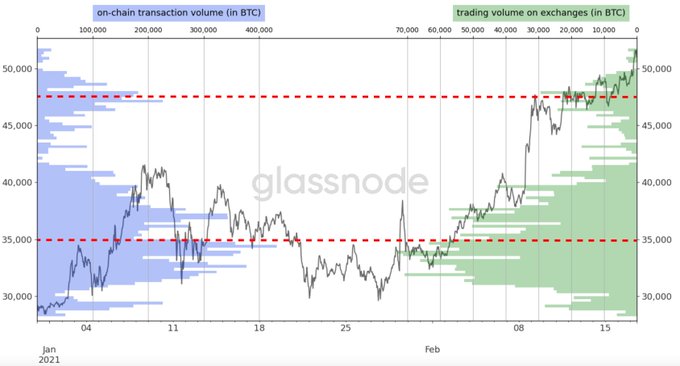 It, therefore, seems that the sky is the limit for Bitcoin.
Image source: Shutterstock
Source: https://blockchain.news/news/bitcoin-dominance-continues-as-btc-undergoes-third-parabolic-advance-target-240k
Grayscale Plans to Offer More Digital Asset Products to Meet Rising Investor Demand
Grayscale Investments LLC has announced plans to explore other digital assets.
Grayscale Investments LLC, the world's largest digital currency asset manager, has announced that it is considering several new digital assets for potential new products. In this way, the New York-based company continues seeking ways to better meet the rising investor demand for exposure to digital assets through regulated, secure, and familiar investment products.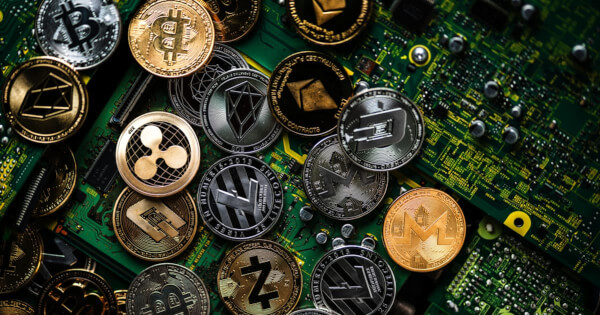 The company is currently considering the following digital assets: Aave (AAVE), Basic Attention Token (BAT), Cardano (ADA), Chainlink (LINK), Compound (COMP), Cosmos (ATOM), Decentraland (MANA), EOS (EOS), Filecoin (FIL), Flow (Dapper Labs) (FLOW), Livepeer (LPT), MakerDao (MKR), Monero (XMR), Numeraire (NMR), Polkadot (DOT), Reserve Rights (RSR), Stacks (STX), Sushiswap (SUSHI), Synthetix (SNX), Tezos (XTZ), The Graph (GRT), Uniswap (UNI), and Yearn Finance (YFI).
Grayscale CEO, Michael Sonnenshein, said: "We may not turn each of these assets into one of our landmark investment products. But as a firm that has been on the vanguard of connecting the legacy financial system with the new, digital currency-driven financial system, we view it as our responsibility to introduce investors to more diversity in this space."
The process of establishing an investment product structured similarly to those that the company already provides a significant consideration and review, and is subject to enormous internal controls, regulatory considerations, and adequately secure custody arrangements. Therefore, there is no guarantee that the assets mentioned above list would get a corresponding investment product. The firm said that any newly-created products will be announced separately upon launch.
Grayscale currently offers eight single asset investment trusts including (Bitcoin (BTC), Bitcoin Cash (BCH), Ethereum (ETH), Ethereum Classic (ETC), Horizen (ZEN), Litecoin (LTC), Stellar Lumens (XLM), and Zcash (ZEC). The firm also provides one diversified fund (Grayscale Digital Large Cap Fund) that offers exposures to top cryptocurrencies by market capitalization.
Emergence of New Competitors
Grayscale's trusts help investors gain exposure to digital assets through a more traditional investment vehicle by purchasing its publicly listed shares.
However, this year has witnessed the launch of multiple competing products. For example, Bitcoin Exchange-Traded Funds (ETFs) are gaining traction as new competitors for Grayscale are emerging. Last month, Osprey Funds LLC launched an over-the-counter (OTC) Bitcoin Trust similar to Grayscale's Bitcoin Trust (GBTC). Besides that, ETFs seems to be taking off in Canada. During this month, the Ontario Securities Commission, Canada's securities regulator, approved the launch of Purpose Bitcoin ETF by Purpose Investment Inc Toronto-based asset management firm. Evolve Funds Group Inc. also launched its Bitcoin ETF that started trading on the Toronto Stock Exchange.
The rising competition has impacted Grayscale's business. Specifically, competition may erode the demand for the Grayscale Bitcoin Trust (GBTC) product, which could result in a collapsing premium or even a discount. GBTC currently holds more than 655,750 Bitcoins worth of $31.6 billion. However, this week the $31.6 billion has dropped by 21% as investors have rushed to sell off their holdings.
Image source: Shutterstock
Source: https://blockchain.news/news/grayscale-plans-offer-more-digital-asset-products-meet-rising-investor-demand
Venture Capital Company Benchmark to Pump $50 Million into Ethereum-Based Fantasy Football Platform Sorare
Benchmark, a venture capital company that earlier backed Ebay Inc., Twitter Inc., and Uber Technologies, plans to invest a whopping $50 million into Ethereum-powered fantasy football platform Sorar
Benchmark, a venture capital company that earlier backed Ebay Inc., Twitter Inc., and Uber Technologies, plans to invest a whopping $50 million into Ethereum-powered fantasy football platform Sorare.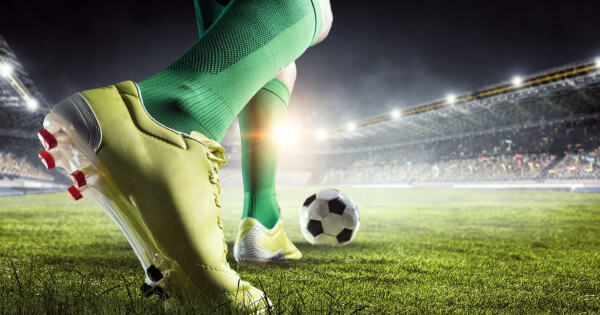 Sorare's sales skyrocket by 130 times
Sorare is a fantasy soccer video game founded on the Ethereum blockchain that enables users to build their preferred teams and trade football player cards.
These cards are limited and can be transferred as unique non-fungible tokens (NFTs). Moreover, the cards earn points on the foundation of every player's respective real-world weekly performance.
One of Sorare's primary goals is to boost blockchain and digital asset adoption in daily life. This has been paid off because its sales have increased exponentially by 130 times from $50,000 in January 2020 to nearly $6.5 million this month.
Benchmark, together with other investors like Reddit and Accel, intends to invest a total of $60 million into the platform as its popularity continues to grow.
Sorare hosts at least 4 billion football fans
Sorare is proving to be a force to be reckoned with in the NFT and fantasy football space because it is used by at least 4 billion football enthusiasts globally.
Nicolas Julia, Sorare CEO, noted:
"Human beings have been collecting for centuries; it's something we do. This is a product that could bring the crypto asset class to millions of people."
Furthermore, the platform hosts top-ranked soccer clubs like Juventus. In November last year, reigning UEFA Champions League Winners FC Bayern Munich joined Sorare, giving its fans the chance to trade digital cards based on its top players like Robert Lewandowski, Thomas Muller, and Manuel Neuer.
As more investments continue trickling into the Ethereum-based fantasy football platform, there is an enormous market to tap. NFTs are unique tokens compared to cryptocurrencies like Bitcoin because they are created in small batches to represent a digitally scarce item like football player cards.
Image source: Shutterstock
Source: https://blockchain.news/news/venture-capital-company-benchmark-pump-50-million-ethereum-based-fantasy-football-platform-sorare
South Korean Investors Making more than $2,260 from Crypto to be Slapped with a 20% Tax in 2022
The South Korean Ministry of Economy and Finance has announced that investors making at least 2.5 million won, or approximately US$2,260 from crypto trading, will be subjected to a 20% tax from 202
The South Korean Ministry of Economy and Finance has announced that investors making at least 2.5 million won, or approximately US$2,260 from crypto trading, will be subjected to a 20% tax starting in 2022.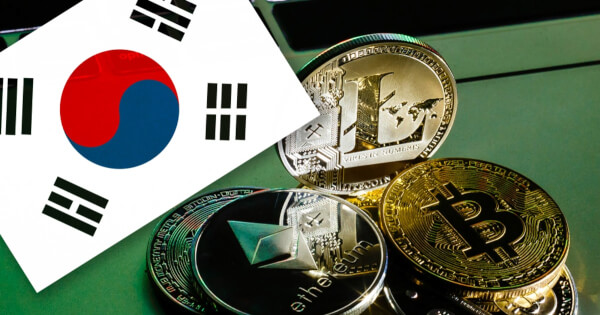 The revision of the South Korean tax code
This revelation comes following the nation's annual tax code revision, which the National Assembly permitted in December.
According to the announcement:
"The first 2.5 million won is tax-free. For instance, if an investor makes a 10 million won profit from trading Bitcoin, 7.5 million won of that amount will be subject to the 20 percent tax."
The report further pointed out:
"Inheritances and gifts of cryptocurrency will also be taxed. In such cases, the price of the asset will be calculated on the basis of the daily average price for one month before and one month after the date of the inheritance or gift."
Cryptocurrency taxation has been a burning issue in South Korea since the crypto taxation bill was brought up in the nation's parliament last year.
For instance, an influential representative of South Korea's Democratic Party, Yang Kyung Sook, proposed an amendment to re-classify digital assets and cryptocurrency as "commodities" instead of "currency."
Yang asserted that classifying crypto as goods rather than currency is due to investor behaviour, which he believes qualifies digital assets for a capital gains tax.
The delicate balancing act in crypto taxation
Cryptocurrency investors have been finding themselves in a difficult position because of the heavier taxes imposed on their gains, as compared with stock investment. A police officer surnamed Choi noted:
"I think it's unfair to charge that much (cryptocurrency) tax when compared to taxes on stocks."
Therefore, the South Korean government has been struggling to figure out how to deal with crypto taxation because the standard it intends to use is for other non-stock assets like real estate.
Image source: Shutterstock
According to the announcement:
Source: https://blockchain.news/news/south-korean-investors-making-more-than-2-260-crypto-gains-slapped-20-tax-2022