6 Reasons Why Ethereum Price is Surging
Ethereum is entering new realms of price discovery – here are six reasons why Ethereum is showing significant strength at the outset of 2021 and the ETH price continues to rise.
Ethereum continues to press forward to new all time highs as ETH price surged to $1756 for the first time last night according to CoinMarketCap. Ether has since fallen to $1,674 at the time of writing.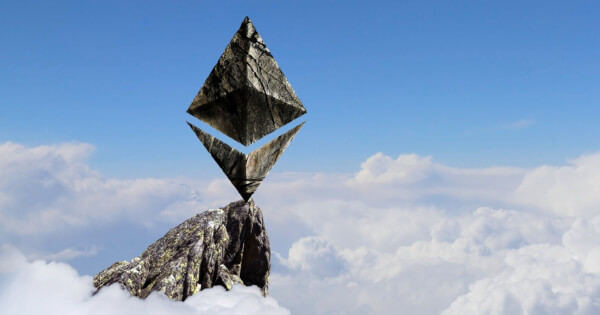 As ETH prices breached $1,700 for the first time, Paolo Ardoino, CTO at Bitfinex shared his thoughts on Ethereum's surging popularity with Blockchain.News in a note:
"Ethereum is seemingly 'going to the moon' as it reaches another all-time high above US$1,700. There are lots of moving parts to the second biggest cryptocurrency by market capitalization. Sceptics may focus on the challenges that it faces. But hackers and coders love to solve problems. Ethereum was designed to be a currency to fuel an ecosystem of applications and we are still at the very beginning of this journey. Meanwhile, the coming CME Futures launch represents another milestone towards crypto becoming an established asset class."
Below are six reasons why Ethereum is showing so much strength and why the ETH price continues to rise.
Reason 1:
A large number of mainstream brokerages have restricted transactions, resulting in a large number of WSB (WallStreetBets) style retail investors investing in the decentralized cryptocurrency market.
WBS, a turbulent U.S. retail investor group joined forces against Wall Street short sellers by targeting a selection of hedge fund shorted stocks, mainly GameStop (GME) and AMC. Following the coordinated buying attack of WSB, mainstream brokerages like Robinhood began restricting the purchases of some WSB targets stocks such as AMC NOK BB due to liquidation risks.
As a result, the retail investors have coordinated to focus on the decentralized virtual currency trading markets, and the influx of such a large number of retail investors has been a factor in accelerating the rise of Ethereum.
Reason 2:
Since January 4, Ethereum has directly risen to $1,350 with a thunderous momentum. The market value reached its highest peak on February 5 today, and continue to rise today. According to CoinMarketCap data, the current market capitalization of Ethereum is about $183,092,738,810, and the price is trading at around $1603.52.
Technical analysis shows that Ethereum has been moving in an ascending channel for the past two days and still has strong upwards momentum. From the perspective of transaction volume, starting from 2021, the overall average transaction volume is higher than the average levels of both 2020 and 2019. The promotion of transaction volume is also one of the factors contributing to the continued rise of Ethereum.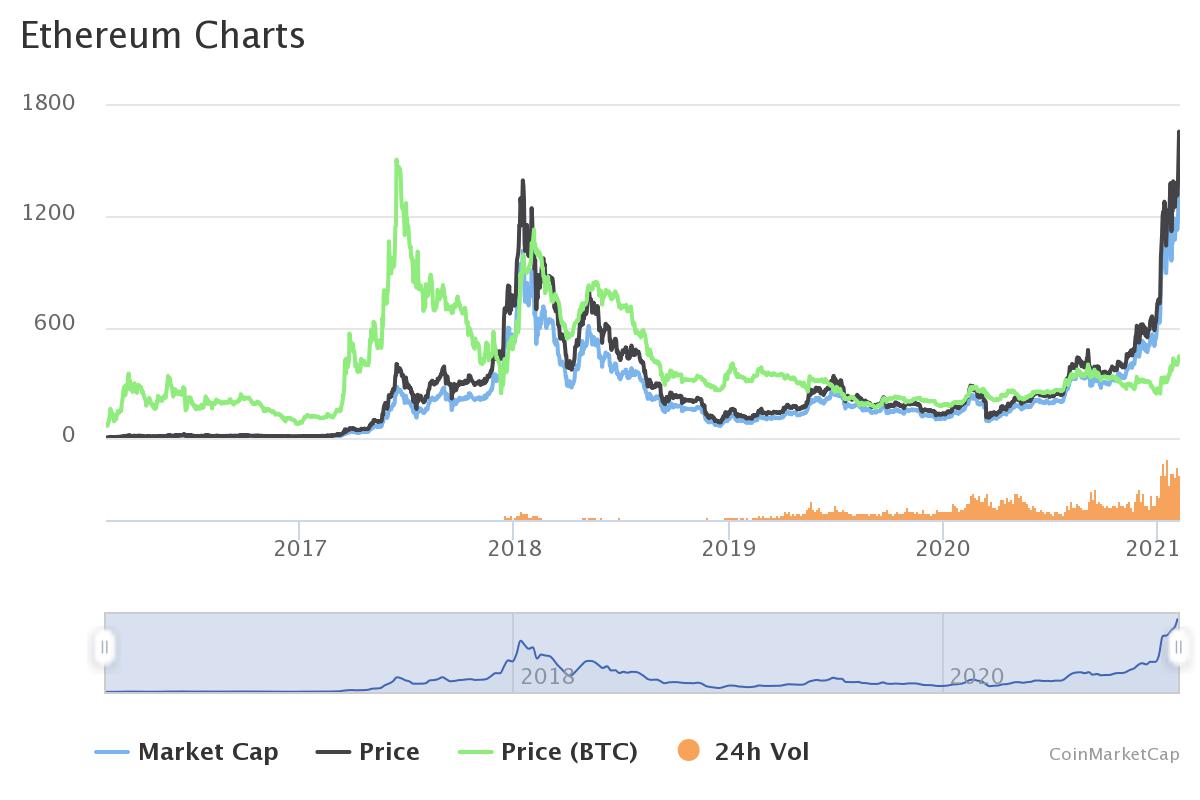 Source: https://coinmarketcap.com/currencies/ethereum/
Reason 3:
According to statistics from the Ethereum options market in the next few days the trading volume in the nearly expiry date, the volume of call options are much bigger than that of put options. The market has shown a bullish sentiment. The main driving force for this sharp rise comes from capital.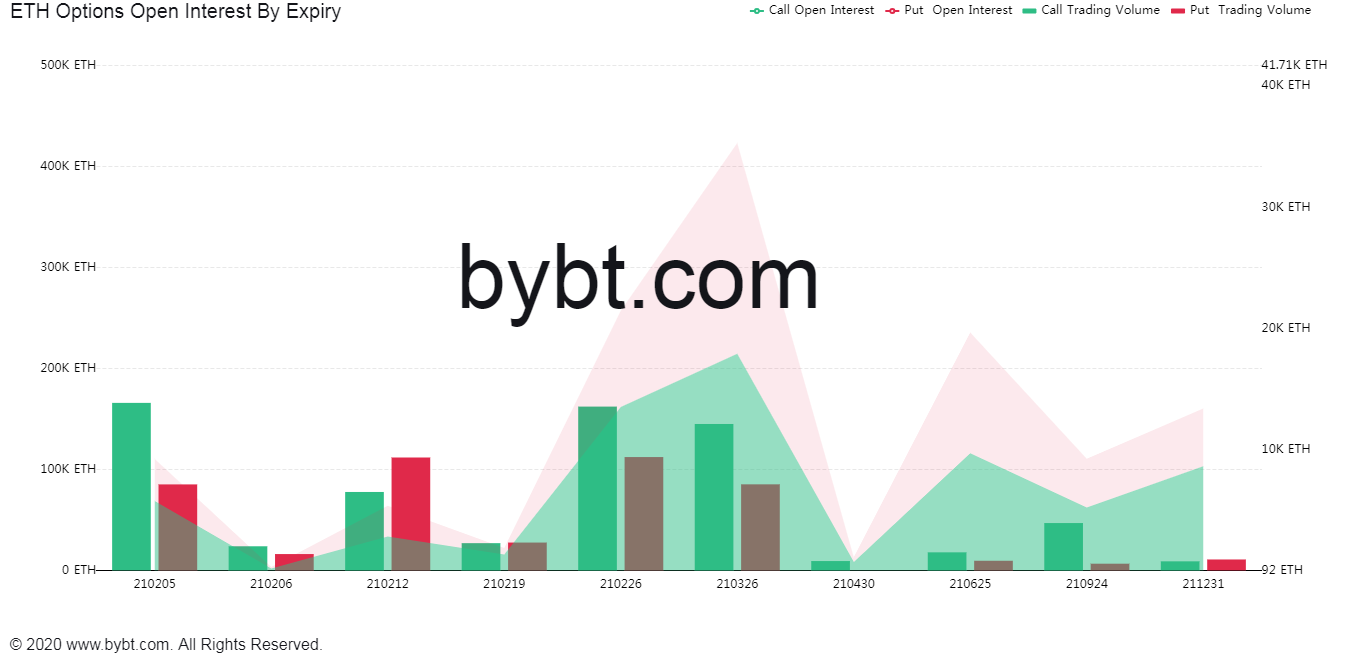 Source: https://www.bybt.com/options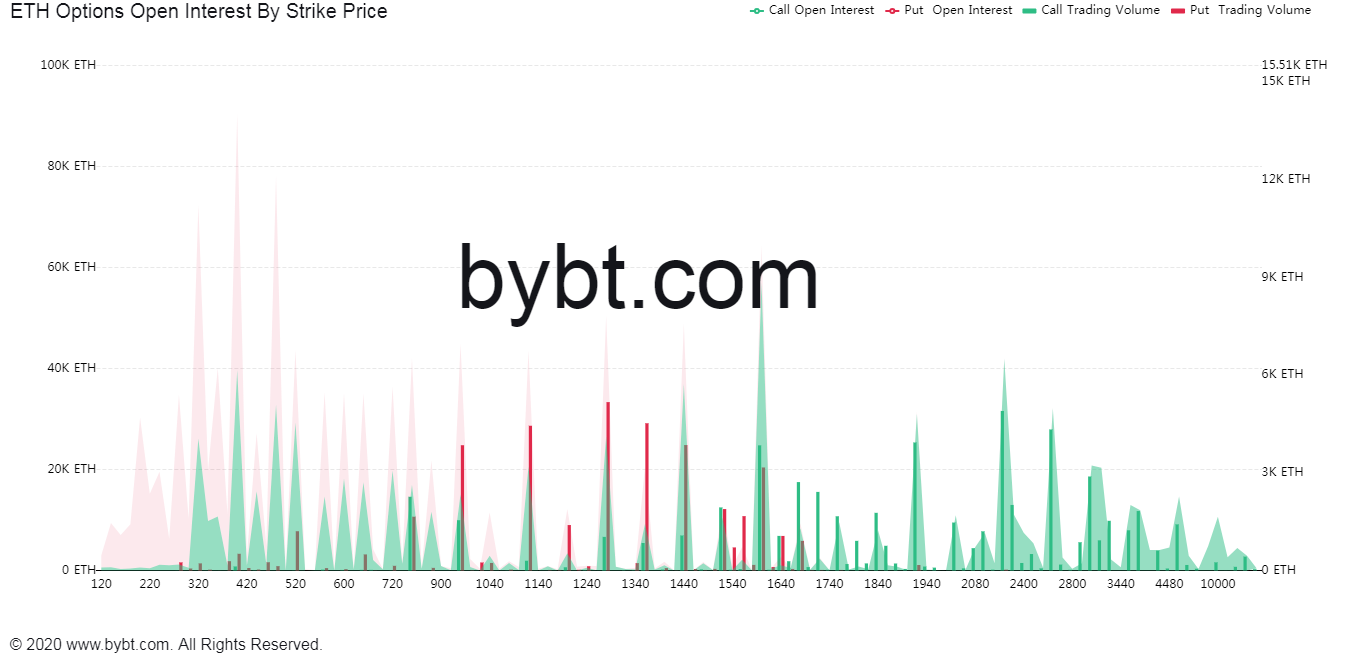 Source: https://www.bybt.com/options
Reason 4: The strong rise of Defi led to the strong rise of ETH.
In recent days, the Defi ecosystem has repeatedly set new highs. Up to now, the total value locked has reached over 48 billion U.S. dollars and the true locked up value of Defi has exceeded 34 billion U.S. dollars, reaching $35.55 billion—a new record high. Ethereum remains intrinsically tied to the DeFi markets and continues to be the most utilized smart contract blockchain in the space and consequently the ETH price continues to surge with the decentralized market.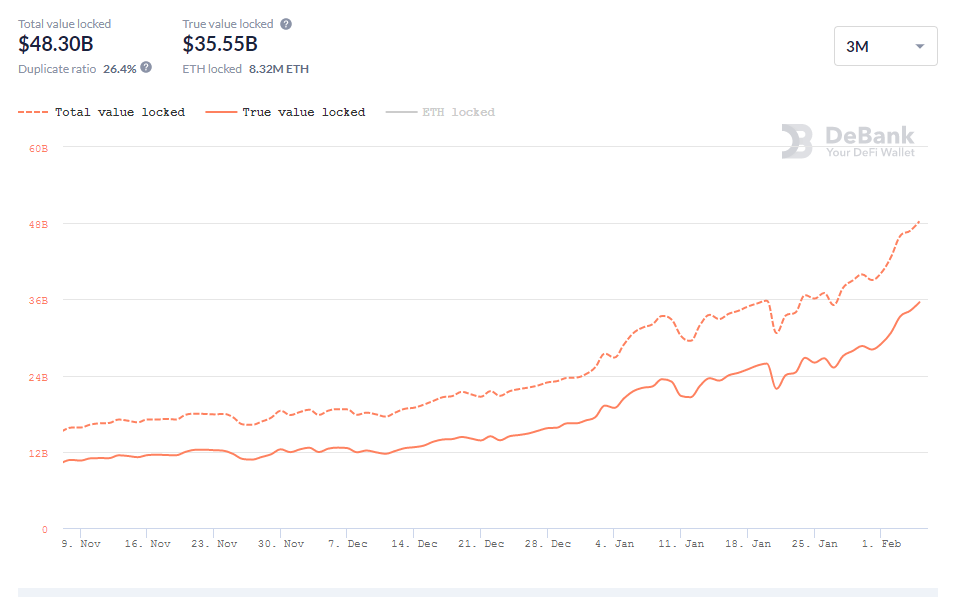 Source: https://debank.com/ranking/locked_value?chart_date=3M
According to data of Debank ,the top five projects in terms of lock-up volume are Maker, WBTC, Uniswap, AAVE and Compound. These five projects have their own merits, and then those who are chasing afterwards are also catching up. Whenever a project rushes into the top five, the token value will reach a new peak.

Source: https://debank.com/ranking/locked_value
Reason 5: Institutional investor arbitrage
Institutional arbitrage may boost ETH's recent gains, speculating that investors are buying ETH to solve the loan problem of ETHE stock.
Over the past 3 days, the Grayscale Fund bought a large amount of ETH, and its holdings reached the highest peak. The total holding of eth reached 3.02 million US.dollar. In the past 7 days, a total of 83678 were bought. eth, in the past 24 hours, the Grayscale Fund bought a large amount of eth, the amount reached 12684, the inflow of grayscale Ethereum greatly exceeded BTC, and the inflow of Ethereum capital rose sharply.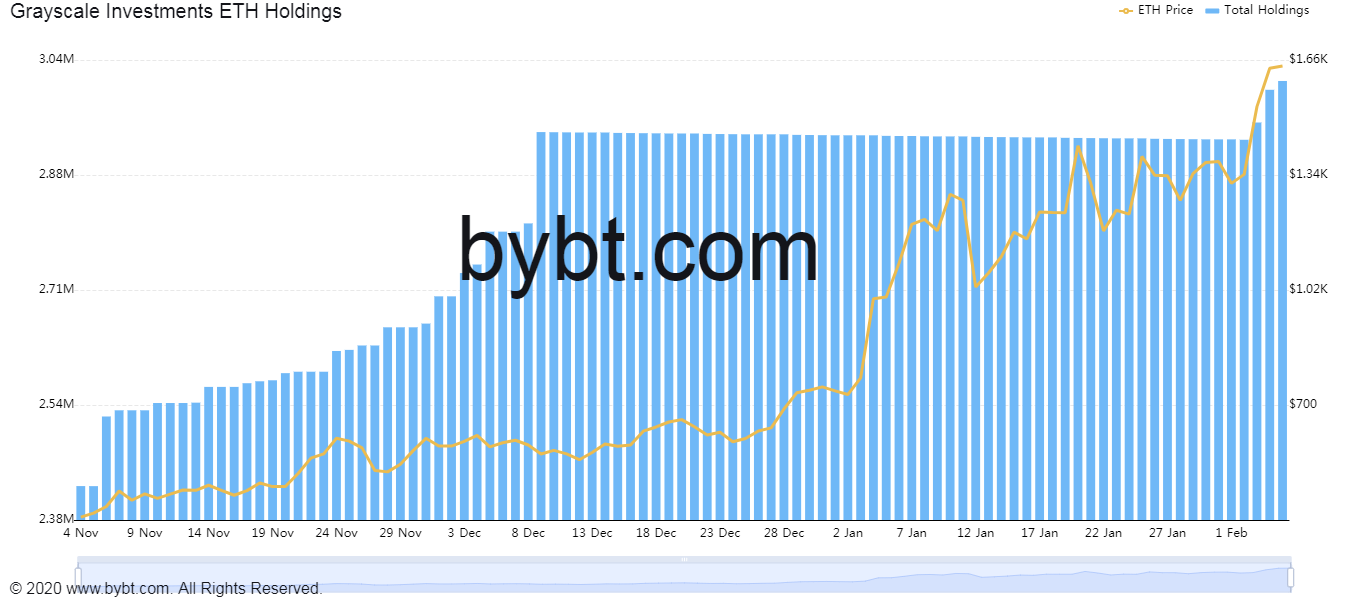 Source: https://debank.com/ranking/locked_value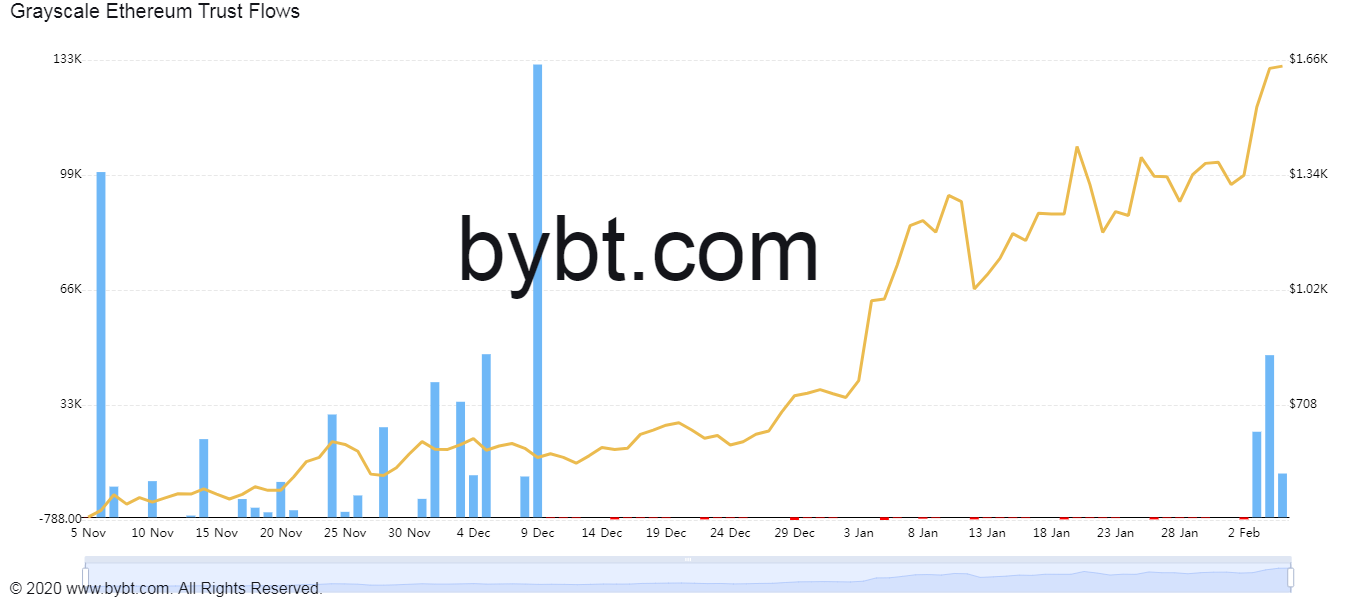 Source: https://www.bybt.com/Grayscale
Reason 6: The positive impact of ETH 2.0
On the current Ethereum protocol, miners use special mining machines that consume large amounts of electricity to mine. The reform of Ethereum 2.0 allows Ethereum holders to pledge Ethereum tokens to become validators in the network, and participate in it to obtain transaction fees. Part of the revenue, and part of the additional tokens.
Under Ethereum 2.0, ETH is no longer a pure consumer commodity, but a productive commodity that combines the nature of commodities and equity – ETH holders can mortgage tokens for interest. Obtain cash flow income, similar to equity securities.
Image source: Shutterstock
Source: https://blockchain.news/analysis/6-reasons-why-ethereum-price-is-surging
US Space Force Makes its Foray into the NFT Metaverse
The United States Space Force is launching an NFT series named after Neil Armstrong.
The United States Space Force (USSF) has announced the launch of its Non-Fungible Token (NFT) series dubbed "Armstrong Satellite NFT Launch with Space Force." The NFT series is named after Neil Armstrong, the first American and human to land on the moon, which is under production in partnership with Ethernity Chain and Star Atlas.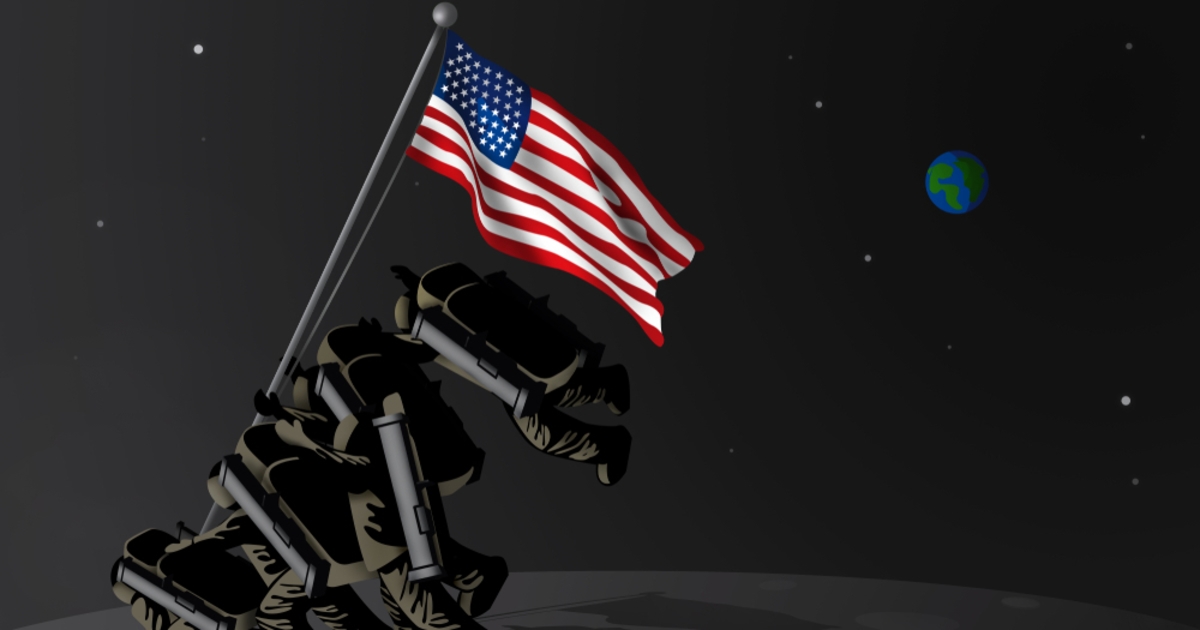 According to the official announcement, the NFT series will feature a limited edition digital twin NFT of the GPS III SV05 "ARMSTRONG" satellite and 3D NFTs depicting 30-plus satellites currently in orbit forming a GPS constellation around the Earth, among others. The Armstrong Satellite, named after the historic feat of Neil Armstrong, has its inherent significance in that it will provide "accurate global positioning and navigation systems to military and civilian users."
The foray of a notable US agency into the NFT metaverse signals that the industry's potential is fast approaching maturity with a broader public acceptance. The Ethernity Chain team particularly considers the partnership with USSF as a win for blockchain immutability.
"This is a historic opportunity for the NFT and blockchain space to push the medium forward and commemorate a moment both technologically and futuristically," said Ethernity Chain CEO Nick Rose as a part of the announcement. "We can now put this launch and Neil Armstrong's historic achievements on the immutable ledger and memorialise and tokenise it on an NFT that the public can participate in."
American agencies are known to be huge supporters and investors in blockchain technologies. The move into NFTs is a testament to the trust in the potential of the tech to recreate experiences for users and keep pieces of history. While NASA is funding a blockchain-based space communication project, the agency's dive into blockchain has been attached to the probable launch of a cryptocurrency as the agency was once in search of a data scientist.
Image source: Shutterstock
Source: https://blockchain.news/news/us-space-force-makes-its-foray-the-nft-metaverse
Long-Term Bitcoin Holders Keep Stacking While Short-Term Holders Keep Selling
On-chain analyst William Clemente III revealed that long-term holders keep on stacking as short-term holders keep on selling.
Bitcoin (BTC) has spent the last two months ranging between $30,000 and $40,000.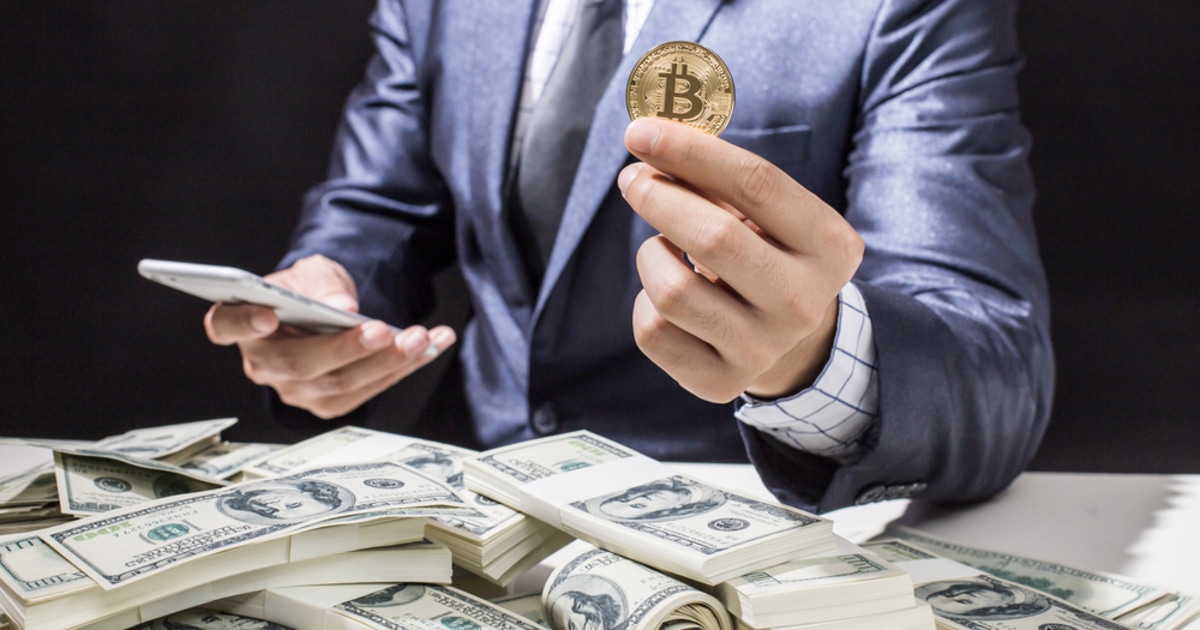 It, therefore, shows that bulls and bears have been embroidered in a tussle, and William Clemente III acknowledged this fact. The on-chain analyst explained:
"Long Term Holders keep stacking: +20,969 BTC to their holdings today, +145,021 BTC to their holdings in the last week, and +397,487 BTC to their holdings in the last month."
He added:
"Short Term Holders keep selling: -15,085 BTC from their holdings today, -112,950 BTC from their holdings in the last week, and -428,749 BTC from their holdings in the last month."
These statistics show that as long-term holders continue buying more Bitcoin, their short-term counterparts are offloading their holdings.
Crypto data provider Dilution-proof recently disclosed that short-term holders were selling at a net loss since May 13.
Total fees paid on the Bitcoin network hit an 11-month low
According to on-chain metrics provider Glassnode, the BTC total fees reached an 11-month low of 1.488 BTC.
This is related to recent the market crash, which drove Bitcoin price from an all-time high (ATH) of $64.8k to lows of $30k on May 19.
Google searches for legal tender reached an ATH. Lucas Outumuro, a senior analyst at IntoTheBlock, acknowledged that google searches for "legal tender" had gone through the roof. He stated:
"The World is paying attention. Google searches for "legal tender" hit a new high following El Salvador's Bitcoin Law."
El Salvador recently became the first country to adopt Bitcoin as legal tender. This move is expected to generate jobs in a nation where 70% of the population works in the informal economy and does not hold a bank account.
Furthermore, it is anticipated to be a way that offers access to investment, savings, credit, and secure transactions.
Image source: Shutterstock
Source: https://blockchain.news/analysis/long-term-bitcoin-holders-keep-stacking-while-short-term-holders-keep-selling
13.38% of Bitcoin's Money Supply Has Now Moved Between $31K and $40K
On-chain analyst William Clemente III disclosed that 13.38% of Bitcoin's circulating supply standing at 18.73 million BTC has moved between the $31k and $40k range.
Bitcoin's consolidation between the $30,000 and $40,000 area continues, while the leading cryptocurrency was hovering around $36.8K during intraday trading, according to CoinMarketCap.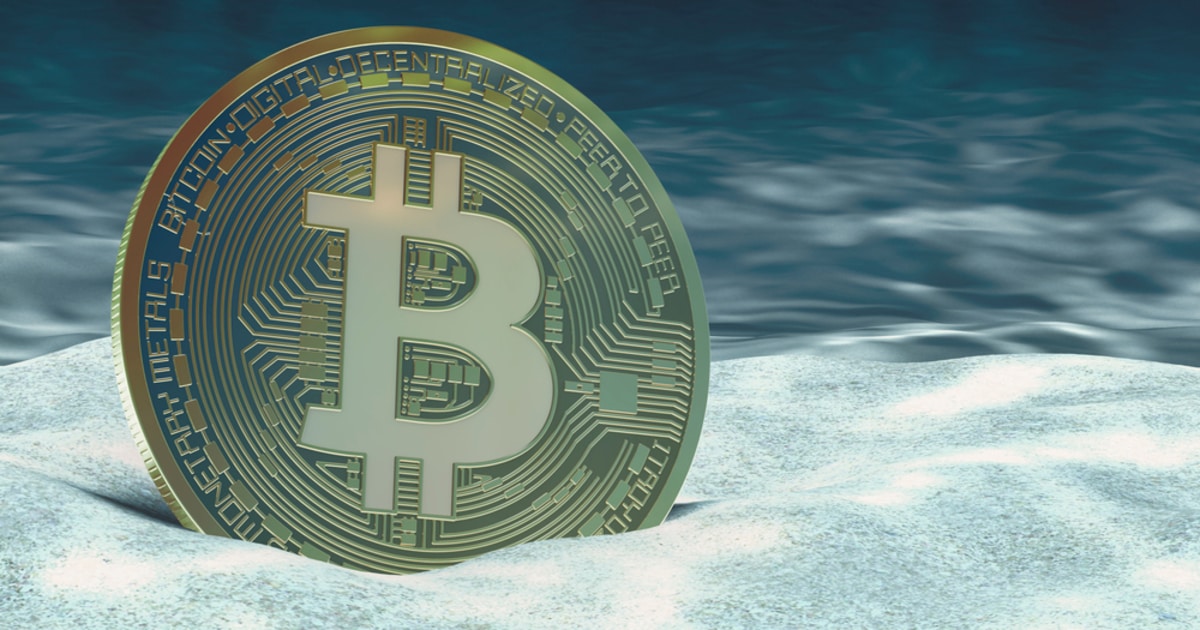 On-chain analyst William Clemente III disclosed that 13.38% of Bitcoin's circulating supply standing at 18.73 million BTC has moved between the $31K and $40K range. He explained:
"13.38% of Bitcoin's money supply has now moved between $31K-$40K. A lot of distribution at 35K-36K, wouldn't want to flip that into resistance."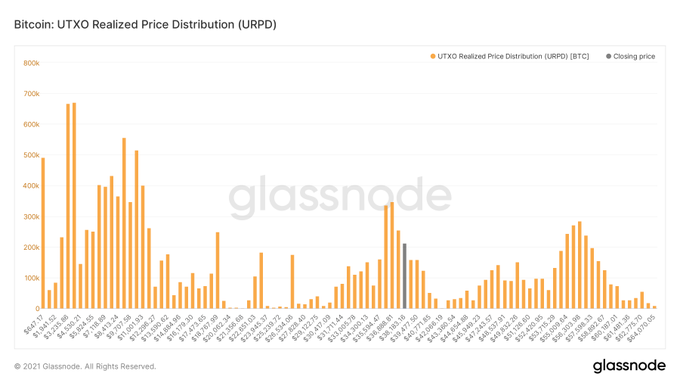 The analyst, however, cautioned about this significant supply flipping to resistance, which could jeopardise Bitcoin's upward rally.
Chris Weston, the head of research at Melbourne-based broker Pepperstone Financial Pty, recently asserted that BTC should trade above $40K for bulls to feel that they are out of vulnerability.
The percent of Bitcoin supply in profit hit a 13-month low
According to on-chain metrics provider Glassnode:
"The percent of Bitcoin supply in profit (7d MA) just reached a 13-month low of 72.140%."
The recent market crash, which saw BTC nosedive from a record-high of $64.8K to lows of $30K, wiped profits of many investors, and miners were not spared either.
Reportedly, Bitcoin miners' wallet net flows were increasingly turning negative.
This downtrend in the BTC market is also set to make the Q2 of 2021 record a negative, as acknowledged by Skew. The crypto data provider noted:
"Bitcoin is on track for its first down quarter since Q1 2020."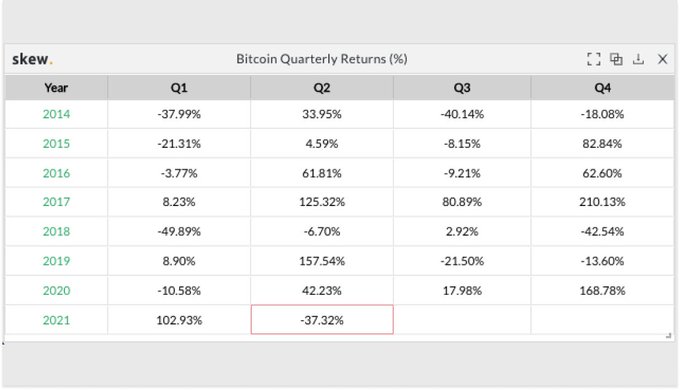 Meanwhile, US institutional Bitcoin demand had dried up because American-based crypto exchange Coinbase was experiencing more inflows.
According to a recent weekly report by digital asset firm CoinShares, institutional investors continued to reduce their long positions in BTC. The net outflow reached a record of $141.4 million in the past week.
Furthermore, that whale holdings of more than 1,000 BTC had been dropping since February. It, therefore, remains to be seen whether BTC will attract more institutional investors to spur an upward move.
Image source: Shutterstock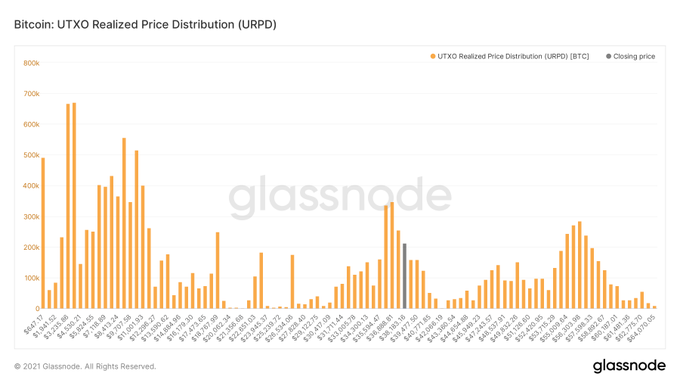 Source: https://blockchain.news/analysis/13.38-percent-bitcoin-money-supply-has-now-moved-between-31k-and-40k