$3.6 Billion Worth of Bitcoin Options Will Expire Today
Today, $3.6 billion in Bitcoin options will expire. This provides investors with the last opportunity to buy or sell Bitcoin at a predetermined price.
Today, $3.6 billion Bitcoin options will expire. This provides speculators with the last opportunity to buy or sell Bitcoin at a predetermined price.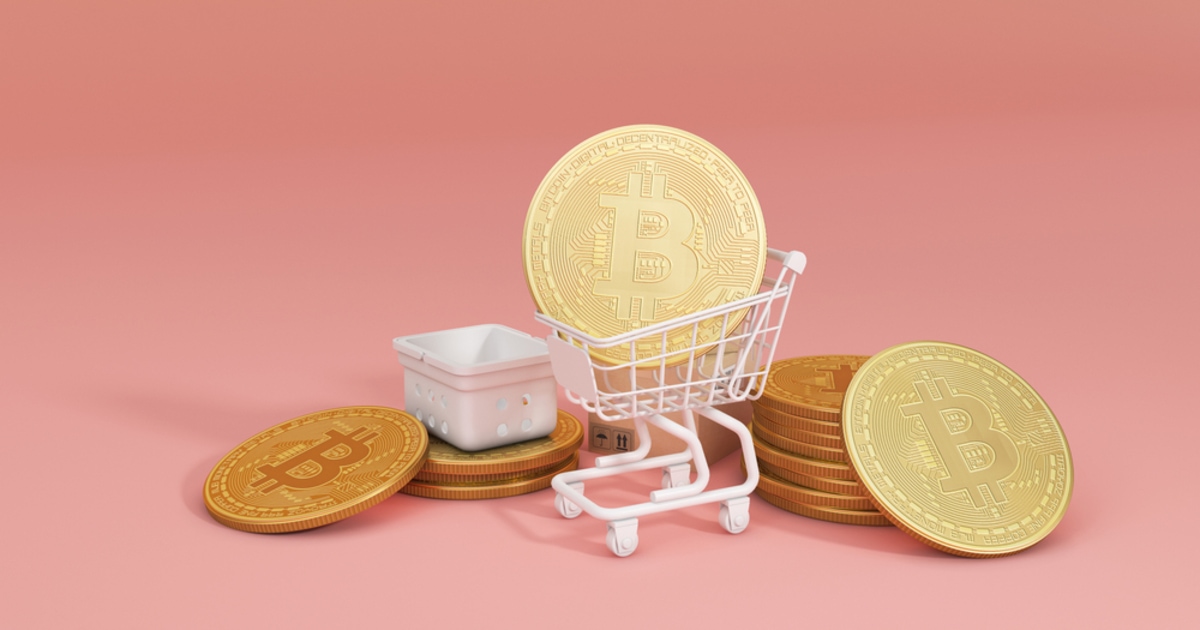 Bitcoin options provide traders with a unique opportunity to buy or sell BTC at a set price. The price of an option contract will vary depending on the time of purchase, the strike price, and the day of expiry. An option's exercise price is the price the underlying asset can either be bought or sold for.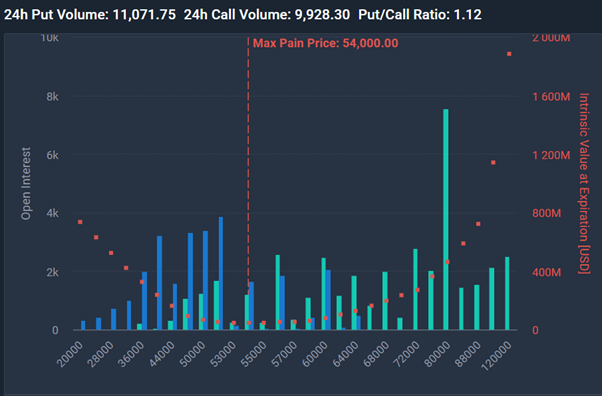 Source: Deribit
The figure above shows the distribution of Bitcoin (BTC) options that will expire on April 30. According to data from crypto derivatives exchange Deribit, the current "maximum pain price" that Bitcoin will expire at is $54,000, which is very close to Bitcoin's current price. At the time of writing, BTC is trading at $54,403.
The greatest pain point is the price at which the Bitcoin options buyer loses the most in the market.
In other words, the maximum pain price will cause investors who previously purchased options to lose their time and opportunity cost of reinvestment of option premiums. This is the price that makes most options worthless because it is no different from buying or selling Bitcoin on the public trading market. However, the holders of the option still need to pay for the option premiums to guarantee their spot.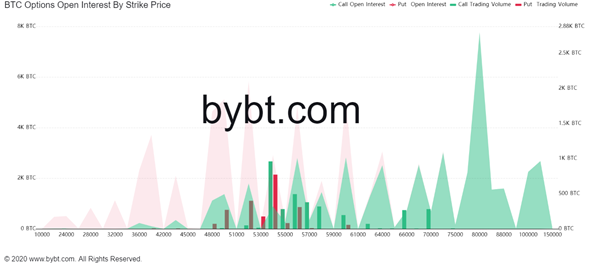 Source: BTC Option Open Interest By Strike Price on Expiration Date of April 30 via Bybt 
The strike price of most call options and put options on April 30 was around $54,000. Around this level, a total of 960.5 BTC call options 771.4 BTC put options will expire. In general, call/put ratio is 1.44, greater than 1, which proves that there are still more bullish investors.
As can be seen from the above figure, there are still many investors with a large amount of open interest at an exercise price of around $80,000, and open interest has reached 7.76K BTC.
Open interest is the number of option contracts held by investors in all markets after the end of the previous trading day.
As the current price is moving around $54K, it seems that Bitcoin is neither bullish nor bearish in the short term and Bitcoin's consolidation may continue for a substantial period of time.
Since the holders of the bullish contract who have accumulated Bitcoin at a high strike price will most likely not exercise the option. If they chose to execute this option, these investors will buy Bitcoin at a higher price, thereby pushing up the price.
Conversely, most of the bearish open interest is focused around $50,000 and $52,000, valued at 3.75K BTC and 4.06K BTC. There is also not a high probability that bearish speculators will be willing to sell assets at this predetermined price.
However, it is worth noting that the maximum pain price of the options contracts with an expiry date of May 7 is hovering around $56,000, higher than the current "maximum pain price" of $54,000. This proves that there are still more bullish investors that may push Bitcoin's price to $56K for next week.
Currently, the total amount of open positions for Bitcoin options are $13.54 billion, of which more than 88% are from Deribit, the world's largest crypto derivatives exchange, and the total number of expiring options contracts is estimated to be approximately 68,500 BTC.
Image source: Shutterstock
Source: https://blockchain.news/analysis/3.6-billion-worth-bitcoin-options-will-expire-today
Internet Computer (ICP): Everything You Need to Know
After Internet Computer ICP tokens were listed on a number of leading cryptocurrency exchanges, its price even exceeded the maximum of $750, briefly surpassing Ripple, Dogecoin, and Cardano, and re
The trading performance of Internet Computer (ICP) token skyrocketed after it was listed on a number of leading cryptocurrency exchanges.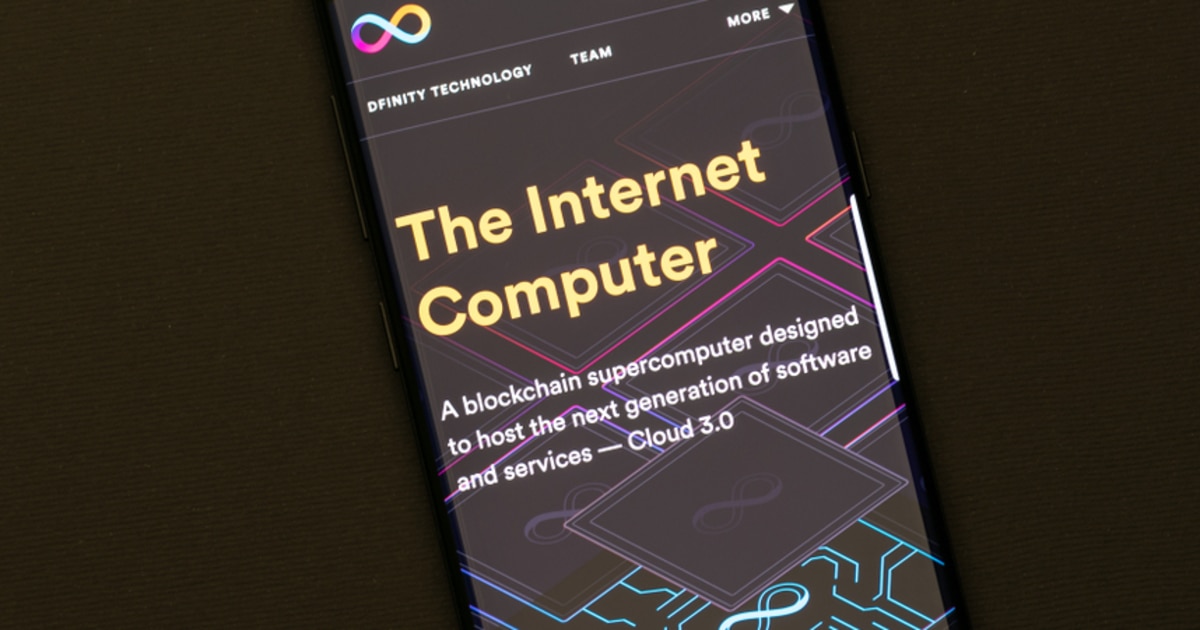 ICP figures among the top ten cryptocurrencies by market capitalization currently in circulation. According to Coinmarketcap, ICP is ranked as the eighth-largest cryptocurrency with a market cap of $40.8 billion. Currently, the token is trading at $339.63.
What is an Internet Computer (ICP)?
Internet Computer is the world's first decentralized public network with an unlimited capacity established by the DFINITY Foundation. Its function is to provide public internet services and to allow back-end software to be hosted on the network. This decentralized cloud computing platform helps software developers freely share their open-source software frameworks on the Internet without relying on technology giants such as Amazon and Facebook, or servers and commercial cloud services.
What is an Internet Computer token?
Internet Computer (ICP) token runs on its own proprietary protocol called Internet Computer. It aims to establish protocol governance and facilitate network transactions. With the ICP token, ICP holders can vote for governance proposals. Another network transaction function is that ICP can convert to cycles that fuel the computation. Its holder can use the token to pay for transaction fees. Compared to the current Ethereum network, the ICP fee has a fixed price for transactions.
DFINITY Foundation
DFINITY Foundation, a non-profit organization, was founded in 2016 by Dominic Williams in Zurich, Switzerland. Its goal is to transform the Internet into a decentralized public computing platform.
DFINITY has currently set up three research centres globally, and the team has recruited more than 100 researchers, engineers, and teams for operations. Since 2015, this project has successively won the favour of well-known investors such as Andreessen Horowitz (A16Z), PolychainCapital, SVAngel, AspectVentures, VillageGlobal, MulticoinCapital, ScalarCapital, etc.
Image source: Shutterstock
Source: https://blockchain.news/analysis/internet-computer-everything-you-need-know
Ethereum Gas Fees Surge to a Monthly High, Supply on Exchanges Continues to Decline
Ethereum's total fees has hit a monthly high of 746.026 ETH.
After hitting highs of $4,350 recently, Ethereum (ETH) retraced to $3,871 at the time of writing, according to CoinMarketCap.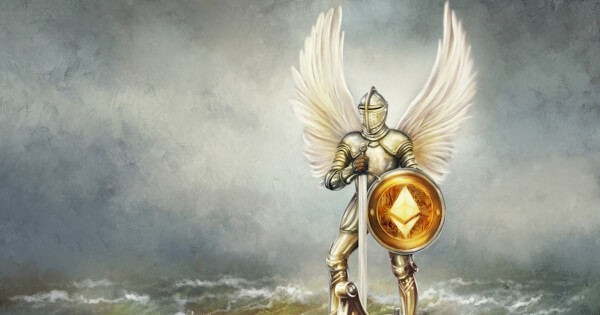 The crypto market experienced shock waves after Tesla, the American electric car manufacturer, decided not to accept BTC payments, citing concerns of negative environmental impact.
The Ethereum network has enjoyed notable milestones ever since the second-largest cryptocurrency breached the previous record of $1,400 set in 2018.
For instance, the total fees paid hit a monthly high of 746.026 ETH, as acknowledged by on-chain metrics provider Glassnode. Moreover, ETH's dominance reached a record high of 19.13%.
Ethereum's supply on exchanges continue to be depleted
According to market analyst Joseph Young:
"The supply on exchanges continues to nosedive. Feels very different from the last bull cycle."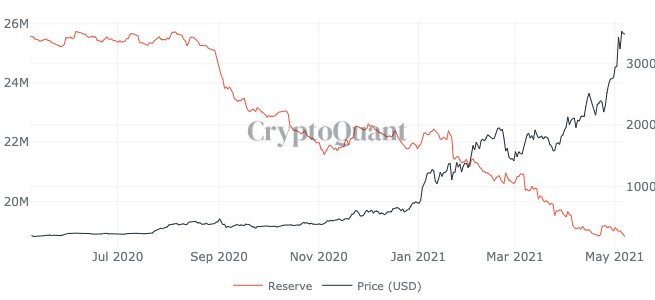 Glassnode had previously reported that ETH on exchanges dropped to 12% of circulating supply, as Ether in smart contracts rose to 22.8%.
CryptoQuant CEO Ki Young Ju attributes this trend to Ethereum's usability and ecosystem, which has made ETH holdings decrease both in derivative and spot exchanges. As a result, the sell-side liquidity crunch has been intensified.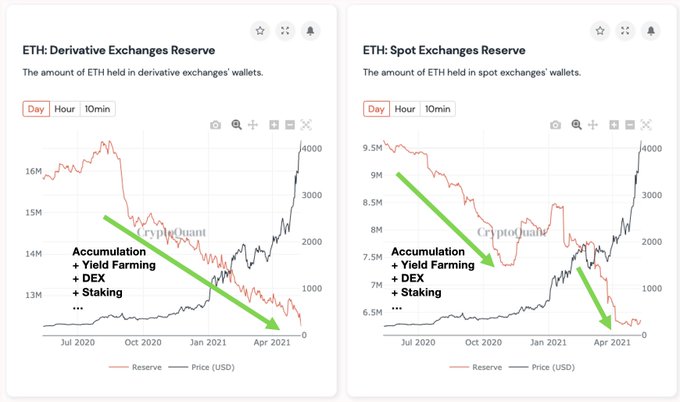 Crypto addresses with at least 10,000 ETH hit ATH
Lex Moskvoski, the CIO at Moskvoski Capital, noted that crypto addresses with more than 10,000 ETH broke the record in the last 30 days. He explained:
"Number of Ethereum addresses with more than 10k ETH are repeatedly hitting ATH in the last 30 days. Looks like the beginning of massive accumulation. Smart contracts are excluded in this chart."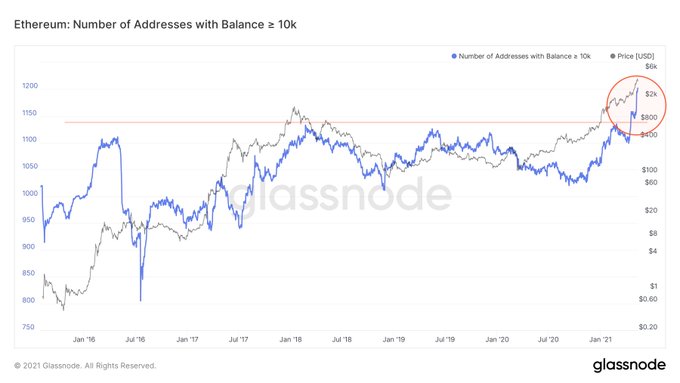 Furthermore, decentralized finance (DeFi) projects on the Ethereum network has expanded at an incredible rate, absorbing more than $100 billion in liquidity in less than a year. Ethereum smart contracts are one of the most sought after features in DeFi.
Time will tell whether ETH will hit the psychological price of $5,000 this year, given that Ether has enjoyed a remarkable bull run in just the first quarter of 2021. Many are inclined to think that Ether will eventually reach $5,000 in value. Dallas Mavericks owner Mark Cuban seems to think that Ethereum will dwarf Bitcoin in the future, given the reliance of other blockchain projects on its network.
Image source: Shutterstock
Source: https://blockchain.news/news/ethereum-gas-fees-surge-monthly-highsupply-exchanges-continues-decline
Bitcoin Struggles to Maintain Its Dominance
Bitcoin's dominance has fallen to 44%, which is the lowest level BTC has gotten since 2018.
Bitcoin's consolidation continues. Ever since the top cryptocurrency hit highs above $64,500, it has not been able to breach the $60K price level. Last month, Bitcoin even plummeted to lows of $48.5K.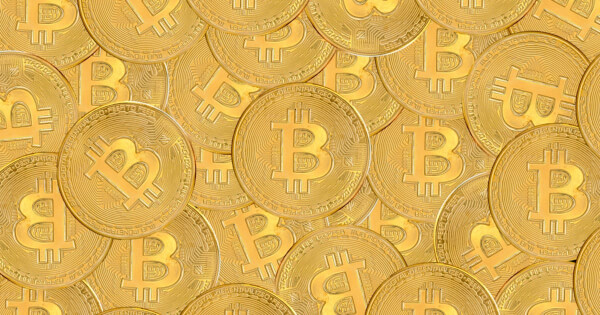 This downtrend was triggered by speculations that the American administration would increase capital gain taxes, which would affect crypto investments. Bitcoin is trading at $55,179 at the time of writing, according to CoinMarketCap.
The lack of an upward momentum has been partly triggered by Bitcoin's dominance falling to 44%, which is the lowest level BTC has gotten since 2018, as alluded to by market analyst Holger Zschaepitz. He explained:
"Crypto market value hits $2.5tn as Ether hits record high >$4k. Bitcoin's price is currently ~$59k w/its dominance reaching 44%, lowest since 2018, while Ethereum's dominance is at a record 18%."
Despite Bitcoin's dominance falling, Square Inc. recently announced a BTC revenue of $3.51 billion during the first quarter of 2021, which is an increase of more than 11 times over the same period last year.
Institutions bought the recent Bitcoin dip
According to Glassnode co-founders Yann & Jan, panic selling by retail investors caused Bitcoin to plummet. They said:
"While retail investors panic sold, institutions bought this recent Bitcoin dip."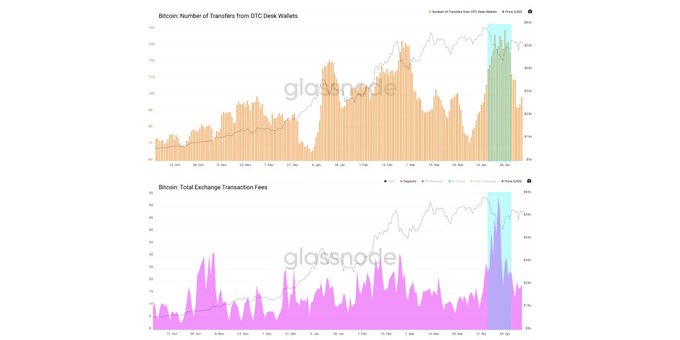 They had previously said that new market entrants caused the recent BTC panic selling, which saw the cryptocurrency's price nosedive to the $48K level.
Bitcoin whales are, therefore, in an accumulation mood, as noted by Santiment. The on-chain metrics provider explained:
"Of the 16,104 Bitcoin addresses holding between 100 to 10,000 BTC currently, they own 9.1M BTC ($531.3B in USD). After declining holdings from April 10 to May 4, this group is showing signs of accumulating again with 20k added BTC the past 2 days."
On the other hand, Bitcoin's selling pressure from miners has fallen, as stated by a crypto trader tweeting under the pseudonym "Crypto Baby."
"BTC selling pressure from miners is dead. They sent a large amount of BTC to exchanges in Feb this year, but they are moving a relatively small amount of Bitcoins these days. The sellers today seem not long-term investors and miners, but short-term profit takers."
Although Bitcoin is eyeing the $60K price level and has been struggling to retest it, 2021 has still proven to be a record-breaking year for BTC.
Image source: Shutterstock
"Crypto market value hits $2.5tn as Ether hits record high >$4k. Bitcoin's price is currently ~$59k w/its dominance reaching 44%, lowest since 2018, while Ethereum's dominance is at a record 18%."
Source: https://blockchain.news/news/bitcoin-struggles-maintain-its-dominance